Perched on the edge of the Red Sea, Yemen is almost forgotten as wars rage in the Middle East and drought brings nearby east Africa to its knees.
Following a fieldtrip to Yemen, WFP intern, Anne Lassen, looks at why hunger is rife in this poverty-stricken country and yet rarely makes it into the international headlines.
The scales show that the pregnant woman weighs 39 kilogrammes. "How far is she into her pregnancy? I ask my colleague.
"She's 9 months pregnant," comes the reply.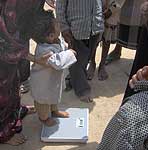 Weighing children to assess their nutritional state
I can't believe it. The woman is thin, has dark circles under her eyes and weighs 25kg less than me despite being heavily pregnant and the same height.
Women, children and men are gathered around our group which includes UN workers, representatives from the government and NGOs who are all measuring, weighing and performing blood tests on women and children under five in the village.
Protein malnutrition
Children who are malnourished and undernourished are not difficult to spot.
Red and blond hair on dark children is a sure sign of Kwashiorkor, a type of protein malnutrition caused by eating too little food or the wrong food.
"There are times we only have bread and tea. That is the only thing we have to eat," an elderly woman says in Arabic.
Lunch invitation
The villagers begin gathering any food they can find to invite us for lunch.
They want to make us lunch and not eat the food themselves! We have to decline the invitation. We cannot take food from people who have nothing.


Anne Lassen (centre) with women villagers
I am hungry as it has been a long day, but I know I will not be able to eat until much later when we leave the village.
After having declined the lunch invitation it would be rude to eat my own food in front of the villagers.
Low profile
I am sweating. It is over 45 degrees and I am wearing a long black abia and a scarf to blend in as much as possible with my local colleagues and not create too much attention in the village.
Why is Yemen so rarely seen in the international headlines? It is the poorest country in the Middle East and North Africa and is ranked 151 out of 177 in the UN's development list detailing the poorest countries in the world.
Nearly 22 percent of households are affected by food insecurity and nearly 46 percent of children under the age of five are underweight.
Silent disaster
It is a silent disaster - although maybe not considered as serious as what we see in Niger, Ethiopia and other places in Africa where pictures of skeletal children make the international community react.
The problem here is that the disaster is much more difficult to see.
Empty stomachs
The quality of life is very low among people in the villages and is preventing development in the country: empty stomachs make it difficult to concentrate and to learn, and prevent people from improving their living conditions.
WFP's country programme in Yemen tackles hunger early on by providing nutritious food to malnourished pregnant and lactating women and children under five.
Gender equality receives a boost with a project to encourage girls to study by offering family food rations to 100,000 girls who attend school.
Others who benefit from WFP food in Yemen include refugees and people who are ill with leprosy and tuberculosis.
On the move
It is getting dark and our driver is racing down the mountain, overtaking camels and donkeys transporting water to the village and women who are on their way up the mountain carrying enormous piles of wood on their heads.
Many of the women are covered from top to toe and I wonder how they can find their way as they can hardly see.
I am tired. I have been on the go for five days, sleeping three to four hours every night and working in the villages every day.
Tomorrow I am going back to Sana'a, the capital of Yemen and the place where I live and work.
The rest of the group will continue to work in the field for another 45 days.
I cannot help thinking that after less than a week I am more than ready to return to my life in Sana'a, but at the same time I know that the people in the villages do not have the same option.
They cannot choose to return to something different. Their life is a daily struggle to survive and every day it is the same.