Introduction
High food prices are affecting millions of people across the world - most of all those living on the edge of poverty and hunger.
For WFP, as an organisation entirely dependent on voluntary contributions, the impact of high food and fuel prices represents nothing less than a global emergency.
Key points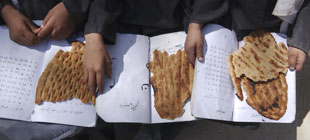 Current prices mean that the world's poorest people have to spend a larger proportion of their income on food. This may mean they will buy less food, or food that is less nutritious, or they may have to rely on outside help to fulfil their nutritional needs.
Countries most affected by high prices are those: which import large quantities of food, whose populations spend a large part of their income on food, where inflation is already high, where there is already food insecurity and which have large urban populations.
In rich countries people spend 10-20 percent of their income on food so they can afford to pay more. In many poor countries they already spend 60 percent, sometimes even 80 percent, of their budget on food
WFP price rise stories
Interview: WFP nutritionist interview Andrew Thorne-Lyman

Somalia:- Old problems and new issues

Afghanistan:- WFP distributes food to Afghans hit by high food prices

Afghanistan:Soaring global wheat prices increase hunger for millions of Afghans

El Salvador: Skyrocketing prices threaten Central America
WFP letter of appeal to Government donors
In March 2008, WFP issued an extraordinary emergency appeal to address the critical funding gap in its programmes created by soaring food and fuel prices. WFP urged Governments to be as generous as possible in helping to close this gap - which stood at US$500 million on 25 February and has been growing daily. Read more.
Speeches
"The challenge is one that knows no borders and is hitting virtually every country hard." - Remarksby WFP Executive Director Josette Sheeran to the joint Annual AU/ECA Conference of Ministers in Addis Ababa, Ethiopia.