Summary
WFP said today it had suspended its helicopter operation delivering humanitarian aid from the Somali port of Kismayo and both its air drop operation and passenger flights from Kenya into Somalia.
The Agency also said that conflict was disrupting the dispatch of WFP food by road within Somalia and delaying some food distributions and urged all parties to the conflict to allow humanitarian workers and assistance to move freely and in safety to assist the most vulnerable.
Staff relocation
On Tuesday, WFP temporarily relocated two Mi-8 helicopters and 25 humanitarian workers from Kismayo to Nairobi. They included 9 WFP staff (1 national and 8 international), 14 crew members and 2 UN security officers involved in air operations from Kismayo.
This decision was taken following a request from the authorities in Kismayo because of expected instability in the area. The eight international staff relocated from Kismayo were the last WFP international staff in Somalia. WFP, however, still has more than 100 national staff in Somalia.
Airspace ban
The air operation to assist up to half a million people affected by flooding in south and central Somalia since November had also become difficult because of a ban on using Somali air space declared by the Transitional Federal Government on Monday.
Therefore food airdrops from an Antonov-12 aircraft flying from the Kenyan port of Mombasa into Afmadow district in Southern Somalia were also suspended from Tuesday because of the restriction on entering Somali airspace.
WFP's airdrops into Somalia started on December 24 and continued on December 25, dropping a total of 28 metric tons of food.
In addition, UN Common Air Service passenger and cargo flights, managed by WFP, from the Kenyan capital of Nairobi into Somalia were suspended from Tuesday for the same reason. They are expected to resume from Nairobi to northern Somalia and within northern Somalia from Thursday.
Resume air operations
WFP hopes to resume all its air operations using airdrops and helicopters and its humanitarian passenger and cargo service in Somalia as soon as possible and is in contact with authorities on the ground in an attempt to achieve this.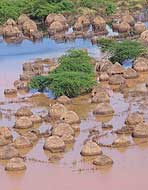 WFP still has more than 100 national staff in Somalia operating from 15 offices across the country and they are continuing working to distribute food to victims of the floods, the preceding drought and the most vulnerable in other areas.
The quantity of food affected by the suspension of airdrops and helicopter operations is small in tonnage terms in comparison to the total amount of food delivered in Somalia by WFP, but it is very significant for those people we were trying to reach because they were cut off from access by land.
WFP Special Operation: the numbers
WFP, for example, had planned to deliver 1,000 metric tons in the coming weeks through airdrops and airlifts using planes and helicopters compared to 18,000 tons that were to be delivered using trucks and boats to flood-affected areas.
WFP still has 50 trucks carrying food to Afmadow that have been stuck for the last seven weeks.
Since the start of November, 6,200 tons of WFP food transported by water, land and air were distributed to 383,000 people in flood-affected areas of south and central Somalia.
The airdrops on 24 and 25 December were the first by WFP in Somalia since 1998 when El Niño floods submerged much of the region. The conflict in Somalia follows the worst floods since 1998. South and central Somalia was hit earlier this year by the worst drought in 10 years.