WFP sends food to stranded flood victims in South Asia
07 August 2007
WFP has begun distributing high energy biscuits and other food to victims of severe flooding in Nepal, Bangladesh and Pakistan and is preparing to step up its operations if requested by governments.
Introduction
WFP has started to distribute food to flood victims in South Asia where some 25 million people have been affected by devastating monsoon rains, some of the worst in recent years.
Huge areas of land are under water in India, Bangladesh, Nepal and Pakistan with the majority of people affected being those who are the poorest and least able to cope.
Crops lost
While waters may soon subside, WFP is concerned about the longer-tem effects of the flooding all over the region. Families have lost crops and livestock, houses and roads have been destroyed and livelihoods and schooling have been disrupted.
Large water masses and soaring temperatures can lead to an outbreak of diseases which puts the health and nutrition of children and vulnerable people at risk.
Donors are urged to come forward and provide support to early recovery assistance programmes like food for work to rehabilitate infrastructure and houses, school feeding to get children back into school and mother and child health to maintain nutritional levels.
Nepal
To date, the only country to officially request international food assistance has been Nepal, where WFP has launched an emergency operation to feed 60,000 of the worst affected people for three months. This is out of a total of 280,000 people affected in 32 out of Nepal's 75 districts. Many districts are in the remote and hard-to–access areas of the Terai.
Bangladesh
In Bangladesh, together with UNICEF, WFP has begun distributing 127 tons of high energy biscuits, valued at US$120,000, from pre-positioned emergency stocks. Up to eight million people are understood to have been affected, particularly in areas around the capital, Dhaka.
At this stage, the Government has not made an appeal for international assistance, but WFP is ready to launch an emergency appeal to international donors if requested.
Pakistan
In Pakistan, some 2.5 million people have lost their livelihoods as a result of the floods. The Government has not asked WFP for emergency assistance, but welcomed WFP deliveries of food in some of the worst-hit areas in the first few days of the flooding last month.
WFP is on standby with an emergency operation targeting up to 132,000 people for three months if officially requested.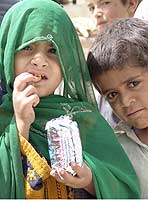 WFP has already distributed 575 tons of food to 5,330 families (37,310 persons) in Noshki, Kharan, Jaffarabad and Jal Magsi districts. The food basket included wheat flour, pulses, vegetable oil, salt and high-energy biscuits.
On 25 July, WFP also launched a special operation valued at US$980,000 to provide logistics support to the UN-humanitarian community for three months.
India
The country most affected by the floods is India where about 18 million people have been hit by the disaster, particularly in the states of Bihar, Assam, Meghalaya and Uttar Pradesh.
The government has made it clear that it does not require international assistance. In the absence of an official request, WFP is not planning any interventions in India.