Israel has withdrawn military forces and evacuated Jewish settlers from the Gaza Strip and the northern part of the West Bank. Concerned that the pullout might cause logistical problems, WFP pre-positioned enough food in the Gaza Strip to feed the 156,000 Palestinians who benefit from WFP rations until the end of October.



WFP has announced it has stored food supplies in Gaza Strip to sustain tens of thousands of impoverished Palestinians ahead of the Israeli withdrawal which started early on 15 August.

Anticipating possible logistic hurdles and uncertainty, the UN food aid agency in the occupied Palestinian territory pre-positioned 5,800 metric tonnes in 21 warehouses in the Gaza Strip.
FOOD UNTIL THE END OF OCTOBER

The food is sufficient to feed the 156,000 Palestinians who benefit from WFP rations until the end of October.
In addition, WFP has already provided all beneficiaries in the densely populated Strip with a two-month ration for July and August.
LOGISTICAL DIFFICULTIES
"In spite of the logistical difficulties that have increased with the Israeli disengagement, WFP, working with NGOs and the Palestinian Authority, has now secured enough food rations for the poorest Palestinians in Gaza", said WFP Country Director Arnold Vercken.
AL-MAWASI ENCLAVE

In the Al-Mawasi enclave, which has been one the areas most severely affected by the Israeli occupation, about 1,340 families have already received sufficient food for the next ten weeks.
For the past four years, Al-Mawasi has been under virtual siege by the Israelis with the movement of its 7,000 inhabitants completely restricted.
CURFEWS, ROAD BLOCKS, RESTRICTIONS

"We decided to take these measures because we were concerned that we might be unable to reach the people we help in Gaza for a short period of time during and after the withdrawal due to curfews, road blocks and possible restrictions on the movement of aid workers," Vercken said.
ISRAELI WITHDRAWAL
On 15 August, Israel started withdrawing military forces and evacuating Jewish settlers from Gaza Strip.
All the 8,500 people who have lived in 21 Israeli settlements established in Gaza, after the area was captured in the 1967 war, are being relocated either to Israel or to the occupied West Bank.
NEW OPERATION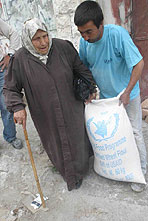 In September, WFP, which has been active in the Occupied Palestinian territory for the past 10 years, is launching a new two-year operation to provide nearly half a million Palestinians with food assistance.
The operation will bring about 154,000 tons of food to Gaza Strip and the West Bank at a cost of US$80 million.
MAJOR DONORS
Major donors to this operation include the European Union (US$9.6 million), the United States (US$1 million), Austria (US$300,000) and Italy (US$70,000).