Uncertain future for quake survivors
07 March 2006
Anwar Gul is a food aid monitor for WFP. He spends his days in the camps and villages where WFP delivers food to the survivors of the last October's South Asian earthquake. Here he reports on people's uncertain future.
Anwar Gul is a food aid monitor for WFP. He spends his days in the camps and villages where WFP delivers food to the survivors of last October's South Asian earthquake. Here he reports on people's uncertain future.
Naseema has nothing of value in her tent.
The only thing she cherishes is a picture of her son who died in the earthquake last October.
She is still waiting to hear from her husband.
"My husband has been missing since the earthquake. Maybe he will come back," she says.
Naseema lives in the Challa Bandi tent camp in Muzaffarabad, the capital of Pakistan-administered Kashmir.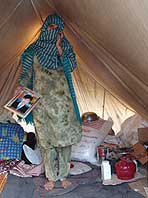 Nasseema has lost her entire family and her livelihood
She comes from Dhani Mai, a village close to this town. She left her village after her house collapsed during the earthquake on 8 October.
She used to make a living from a 200-chicken poultry farm. But the farm collapsed as well and all the animals died.
She cannot even go back to her village.
It is only one and a half kilometres from Muzaffarabad, but the bridge was destroyed and it is now impossible to cross the river.
"I don't know what I will do when the camp closes down and the aid stops, I am worried," she says.
She has nowhere to go, no sources of income and no family support.
'Not Safe'
In the neighbouring tents, the stories are similar. Muhammad and Sakeena Yousef lost one son in the earthquake.
They want to go back to their village of Panjkot, in the lower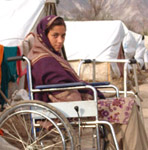 Dilawar Khan's daughter needs intensive care for her injuries
Neelum Valley, 60km away, as soon as the roads are cleared and the weather eases.
But they are not sure what they will do there.
"We have a small piece of land but it is completely cracked and part of it collapsed. It will take several years to get back to normal," says Muhammad.
He would like to plant maize in April but he has no seeds to do so.
Looking for work
If he cannot plant, he will look for work as a labourer.
It will be difficult as the area is poor and work may not be available.
His neighbour in the next tent, Dilawar Khan, says he does not want to go back to his village.
"I want to go away from Kashmir to look for work in Lahore or Rawalpindi. There will be other earthquakes here, the place is not safe," he explains.
He has a family of 12 relatives to take care of.
One of his daughters was injured during the earthquake and is now in a wheelchair. She needs intensive care.
A woman widowed by the earthquake asks for a sewing machine.
"I dream of having a sewing machine - this is my only way to make some money," she explains.
'Uncertainty'
It is not only the people in the camps who are worried. Even in remote villages, what to do next is a common question.
"I need to start my life from zero again," says Irfran, a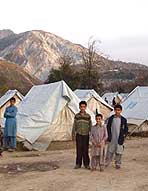 The government will close the relief camps by 31 March
farmer and father of eight children who lives in Panjkot.
He has a small piece of land, but because of the major cracks due to the earthquake, he has had to pitch his tent on the only cultivable part.
"I don't know where I can cultivate or what I am going to cultivate," he says.
He lost his seeds under the rubble of his house and has no other source of income.
Uncertainty is the best word that describes these people's predicament.
They have no way to generate an income now and have so far relied on the WFP, which has been distributing food to one million people in the earthquake-affected areas.
When spring arrives
Winter is not completely over yet but people are already worried about what they are going to do when spring arrives.
Many in the camps want to go back to their villages but they have very little to go back to.
Others would rather stay in the valley but they have no houses or work there.
About 2.8 million people were left without shelters, assets or livelihoods by the earthquake and hundreds of thousands are living in camps in the valleys.
The government has decided to close down the camps by 31 March to encourage people to return early and start reconstruction.
Many thought the most difficult part would be to make it through winter. But now they face enormous challenges ahead.
Food-for-work schemes
People need to rebuild their houses, clear their fields, find a way to make an income and start living a normal life again in a still devastated area.
About a quarter of the livestock was destroyed while a third of the standing crops were not harvested last October.
Significant food and seed supplies were also lost in the earthquake.
The average landholding is small - 1.4 hectares per family. Usually only half of it is cultivated.
Making ends meet
Few families can meet their entire food requirements from their own production.
They need to rely on additional labour which will be difficult to find.
The earthquake destroyed many urban and rural markets. Traders lost stocks, access to credit, markets, and transport corridors.
Economic activity may be slow to develop.
Damage from landslides is likely to be exacerbated by mudslides and flash flows during the snowmelt in March and the monsoon in June.
Between 50% -100% of irrigation structures and water systems were damaged or buried.
Many natural springs have also dried up as a result of seismic shifts.
Terraces and retaining walls also require significant rehabilitation.
It is feared that this year's July winter wheat harvest and the October harvest of maize and rice will be significantly reduced by losses of draught animals, terracing, retaining walls, water systems, seed, fertilisers and adult farm labour.
More than ever, the future looks uncertain.
Many people who have no way to generate an income rapidly, say they would be willing to be part of WFP food-for-work schemes.
WFP plans to provide people with food in exchange for working on community infrastructure, focusing on forestry, agriculture and road repair.