WFP food aid is playing a vital role in reviving the education system in Tajikistan. Laila Gohar, an intern with WFP in Cairo, looks at WFP programmes in this former Soviet state which are under threat due to lack of funds.
At 12 years old, Rajabova Chamangul seems much older than her years.
These are people who are hoping that they can rebuild their country, and provide a better future for their children

A seventh grader in Nurobod district in central Tajikistan, she is one of five children in a family with little income.
Her mother, widowed when her father was killed in Tajikistan's civil war, is unemployed and supports the family on her pension of around US$30.
Meanwhile, her brother has tried to escape poverty by fleeing to Russia.
Highest poverty rate
Unfortunately, the Chamangul family is not unique in Tajikistan, a mountainous landlocked country located in Central Asia with one of the lowest per capita incomes among the 15 former Soviet republics.
Today, it has the highest poverty rate among all the countries in the region of Commonwealth of Independent States (CIS).
Two thirds of the 6.6 million population is classified as poor and living on less than US$2.15/day.
In 2004, 10 percent of Tajiskistan's population was chronically food insecure.
Determined
While resources are limited, Rajabova is determined to get an education.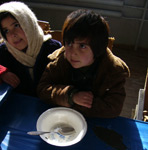 A daily meal ensures children go to school
Thanks to WFP not only can she do that but she can also help her family.
Rajabova is one of the 365,000 children that receive hot meals at school and every month brings home a ration of 25 kilograms of wheat flour and half a kilo of iodised salt.
Without this ration, life would be nearly impossible for the Chamangul family.
WFP milestones in Tajikistan
WFP's programme in Tajikistan started in 2005, and aims to improve living standards of the food insecure through a combination of recovery activities.
These include food for education, food for work, support to tuberculosis patients, support to supplementary and therapeutic feeding programmes and relief assistance for vulnerable groups.
Five years ago, WFP launched a food for education programme which has set major milestones in the country.
Today, many people could not imagine their lives without the food ration that WFP provides and the opportunity they now have to get an education.
Revival
The food for education programme does not only benefit school children, and in particularly girls who before did not stand a chance at attending school, but also schoolteachers.

Making bread
Nabtova Sham'igul is a schoolteacher in the Nurobod district, one of Tajikistan's poorest areas.
She said that WFP has played a vital role in reviving the education sector in the area.
"Due to WFP projects, significant changes are seen in the daily performance and enrolment of children in schools, increasing their attendance rates and allowing schoolteachers to continue with their jobs," she explained.
Support drying up
But keeping the programme going is becoming difficult. While WFP benefited from US$1.5 million in 2003 alone, funding has dramatically decreased as donor support for Tajikistan's current operation dries up.
"In some cases, WFP has already been forced to scale down or cancel its activities," she added.
Haunting reality
Families like Nabtova's and Rajabova's now cannot imagine their lives without WFP, so the funding shortage is not simply numbers and statistics, but a haunting reality for many families in Tajikistan.
These are people who are hoping that they can rebuild their country, and provide a better future for their children. And everybody -- young and old -- has hopes and dreams.
Nabtova wants to continue teaching and Rajabova has big dreams of finishing school in Tajikistan and then attending the Tajik Medical University.
She says that she aspires to help people in the same way WFP helped her with food aid and an education.