By providing seeds, tools and food rations, WFP/FAO's "Food for Seed Protection" helps Sudanese farmers grow crops which enable them to face the precarious "hunger season" and gain some independence. Farmers tell Emilia Casella how the project makes a difference to their lives.
Um Al Hussein wipes her brow and sits down in the shade to talk to a visitor.
It's nearly 4pm and she's been working in her field since eight this morning.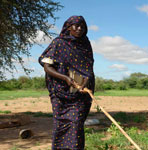 Um Al Hussein tends to her land
She looks tired, but she's not complaining. So far, her plot of sorghum, millet, sesame and ground nuts, looks promising.
Last year, she planted nothing. Her family didn't have enough to eat during the "hunger season" – the period from July to October, before the harvest – and Um Al Hussein had to leave her eight children and travel 50 kilometres to work as a domestic servant in Nyala, the main town in South Darfur.
Crops
This year, with the help of the WFP's "Food for Seed Protection" project, Um Al Hussein and almost 200,000 farmers like her – most of them women – have received five months of food rations that have allowed them to devote precious time to planting and tending to their crops.

The programme provides a ration of up to five months' food during the planting season, to give poor farmers the opportunity to focus on their fields

"If I didn't get this food, I would have had to collect firewood and grass to sell at the market, or I would have had to work on other people's farms, to make money to buy food," she said.
The conflict in Darfur has pushed many people off their land. Livelihoods have been destroyed and fields lie untouched.
About 1.9 million people have been displaced and many live in camps for Internally Displaced People (IDPs), supported by food from WFP and services from other international organisations.
"Hunger season"
But despite the war, many people want to remain in their home communities and cultivate their land – if they can find the seeds and the means to support their families through the "hunger season".
So, this year WFP launched "Food for Seed Protection" in areas of South Darfur where land is accessible.
Seeds for sowing
The WFP programme works in collaboration with the UN's Food and Agriculture Organization (FAO), which provides seeds and tools to the farmers.
The programme – which distributes cereal, pulses, corn-soy blend, oil, sugar and salt – "offers vulnerable farmers an incentive not to consume the seeds or sell their tools for money to buy food in the critical months," said Dominc Omolo of the FAO.


Zeinab also benefits from Food for Seeds
The initiative also helps to prevent food aid dependency, and it creates an incentive for farmers to stay in their home communities, instead of moving to IDP camps, where food is distributed, or going away to find work.
This season the rains have been good, and FAO reports that thanks to its seed and tool distribution and WFP's Food for Seed Protection programme, there was an increase in the land that was planted in South Darfur, compared to previous years.
Getting better
"The food really helped us," said Bakhita Ismail Abdulla, 40. "Usually, I have to work, making charcoal, to get money to help during cultivation."
This year, she was able to plant about 2 hectares of millet and ground nuts, a cash crop used for making oil.
About 10km away, Zeinab, 40, is tending to her fields of millet, sorghum and watermelon – another cash crop. "This year seems better than last year – but I can't really say if the rains will continue to be good."
A widow, Zeinab supports herself and her ten children entirely from the proceeds of her farm and the tea-stand she runs in her village during the dry season.
"The food (from WFP) really made a difference," she said.
Thanks to the support of donors, the programme distributed more than 6,200 metric tonnes of food to 200,000 vulnerable farmers, helping to increase the availability of food in Darfur, a region where every hectare planted counts in the fight against hunger.