A huge variety of cargoes is carried along the roads and rivers of Myanmar, and along with them infectious diseases such as HIV. As one of the major transporters in the country, WFP has introduced HIV awareness sessions for its staff to try to stop the spread, as spokesperson Anthea Webb reports.
Myanmar is at a crossroads between China, the Indian sub-continent and southeast Asia.
Marco Polo first marvelled at the exquisite pagodas of Pagan in the 13th century, on his legendary travels throughout Asia. He described fantastic beasts, incredible temples and armies of elephants along his way.
Variety of cargoes
Today, you are less likely to see a caravan of elephants, but an extraordinary variety of cargoes is still carried along the roads and rivers of this fascinating country.
Massive teak logs, precious stones, dried fish and bags of rice are among the myriad goods that travel the nation's highways and waterways. And just as in Marco Polo's time, opium still traverses the country, en route to markets in Asia, America and Europe.
Path for disease
As in many other oft-crossed countries, cargo is not the only thing carried by transport workers. Major routes also provide a path for disease to spread, carried unwittingly by those whose work takes them from one place to another.
HIV and sexually transmitted diseases are especially prone to spread in this way, as are other infectious diseases.
HIV positive
According to official figures, an estimated 600,000 people in Myanmar are HIV positive – about two percent of the population.
Given the relatively high use of intravenous drugs and movement of women across borders, it is reasonable to assume the numbers may be much higher.
Major transporter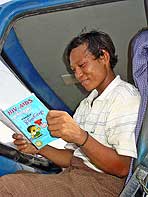 A truck driver finds out more about HIV
As in other parts of the world, WFP is one of the major transporters in the country, moving about 40,000 metric tons of food within Myanmar every year.
From northern Rakhine State to southern Shan State, the Programme reaches some 250,000 returned refugees, school children, former poppy farmers and poor communities in Myanmar.
Trucks, boats, donkeys and motorcycles carry food aid along some of the most – and some of the least – busy roads in the country.
Awareness and harm prevention
Increasingly aware that its contractors and staff were at risk of contracting HIV, or already struggling with family members who had the virus, WFP introduced HIV awareness and harm prevention courses for its truck trivers, boat crews, loading and warehouse staff.
In dealing with this subject – taboo in many cultures – WFP was helped by partners from the Asia Harm Reduction Network (AHRM), Medecins Sans Frontieres (MSF) and Population Services International (PSI).
Stigma and discrimination
The transport workers learned about HIV, and how to avoid it. They heard about stigma and discrimination, and why it is unjustified, with information provided in Shan, Bengali and Burmese.
The transporters were also referred to services for voluntary HIV counselling and testing, and to organizations providing care and support should they, or a member of their families, be found HIV positive.
Stopping the spread
So far, close to 200 transport workers have participated in the HIV awareness sessions, most of them saying they would recommend that their friends participate too.
WFP hopes that in this way, not only will its own staff and contractors be safe, but that they can avoid spreading HIV to villages far off the beaten track.