The fragile peace in the Democratic Republic of Congo (DRC) has been shaken by fresh fighting. WFP spokesperson Marcus Prior reports from the city of Goma in eastern DRC, where tens of thousands of people have fled the unrest.
Life for the thousands of people who have recently fled their homes in the eastern Democratic Republic of Congo (DRC) is as hard as the volcanic rock on which they now live.
As many as 50,000 people are believed to have fled fighting in DRC's North Kivu province in the past few days, bringing the total number displaced since last December to around 300,000.
Flimsy shelters
Most fled in the direction of Goma, where they have sought shelter with relatives or are desperately trying to construct

all indications are that in the hinterland of North Kivu, people are suffering terribly – even worse than here in and around Goma


Aya Shneerson, head of WFP Goma
shelters in the Mugunga area, 15 kilometres west of the provincial capital.
Pathetic, flimsy constructions of reeds, grass and tree limbs dimple the landscape. We are in the rainy season. It is truly desperate.
WFP has already begun the distribution of an emergency 10-day ration, in the hope that the security situation will improve and people will be able to return to their homes sooner rather than later.
At the distribution site, children in little more than rags, many with distended bellies, scrabble around in the charcoal dirt for the tiniest of scraps which fall from the bags of maize.
Panic
Cowering in the shade offered by the eaves of the nearby school building I found a sparrow-like frail old woman. She told me her name was Kanane Baseke, that she didn't know how old she was, and that she had arrived in Mugunga four days earlier.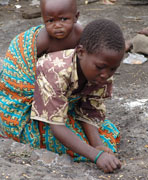 Children search for scraps of food
"There was complete panic," she told me. "Everyone was leaving. I heard gunfire all around me in the hills above – there were exchanges of fire going on all around us. I didn't want to be left alone in the village so I left as well.
"I come from Kiboka, a village close to Sake. I fled the fighting with my brother who has gone to register us for assistance so that we can receive food and other assistance which is being given out.
"We are all very hungry so we are really grateful for this help we are getting now. Considering the situation we are in, I am grateful for anything at all," she said.
Malnutrition and rape
Those who have made it to Mugunga and Goma are probably more fortunate than those who remain in the areas of high displacement where nutrition surveys indicate that rates of acute malnutrition in young children are worsening, in some cases approaching a frightening 19 percent.
In a continuation of a distressing phenomenon, women continue to be targeted by armed groups using rape as a weapon of terror and brutalisation.
Access to the remoter areas remains an enormous challenge for humanitarian agencies. The highly charged and unpredictable security situation has prevented trucks carrying WFP food from moving far outside Goma.
Difficult job
"WFP and our partners are getting a very difficult job done quickly and efficiently, but all indications are that in the hinterland of North Kivu, people are suffering terribly – even worse than here in and around Goma," said Aya Shneerson, head of WFP Goma.
WFP has already faced a tripling of needs in the past year in eastern DRC and this new emergency is placing severe strain on an already fragile pipeline.
Rations for the longer-term displaced people have already been chopped in half and an additional US$12 million is needed urgently to cover the existing needs until the end of the year.