Teams of mountain experts known as 'Quake Jumpers' are being assembled to reach remote, earthquake-affected communities in Pakistan that aid workers have yet to access. Their mission: to prepare these communities for the harsh Himalayan winter that's just around the corner. WFP spokesperson David Orr reports.
The peaks and high ridges in the Kaghan valley in Pakistan's North West Frontier Province are covered with snow. As the 'Quake Jumpers' emerge from the helicopter and move to secure the landing zone, they are blasted by an icy wind.
But if nature's greeting is cold, the waving arms and smiles of the inhabitants, desperate for help after the 8 October earthquake that devastated the region, provide a warm welcome. And the Quake Jumpers can feel assured that their challenging mission was worth undertaking.
Mountain experts
More than a month after the earthquake struck, tens of thousands of people in remote mountain areas in Pakistan and Pakistan-administered Kashmir have still not received any aid. With the merciless snows of winter just weeks away, time to reach them is running out.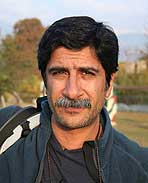 Independent Pakistani film-maker Nisar Malik
The Quake Jumpers are teams of mountain experts assembled to reach communities in the Himalayas that other aid workers have yet to access; small, mobile units that are the brainchild of independent Pakistani film-maker, Nisar Malik.
Years of Himalayan trekking and documentary-making in the region have afforded him an intimate knowledge of both the terrain and its inhabitants.
Real knowledge
"I've spent a lot of time up there and I've also done a lot of aerial filming in the area," says Malik.
"I quickly realised that what was lacking in the relief effort was a real knowledge of how the mountain people live; of their habits, their seasonal migrations and their survival mechanisms."
His concept of highly skilled, well-equipped teams of mountain guides operating off the beaten track was brought to the attention of WFP, which agreed to provide air support, satellite communications equipment and high-altitude survival packs for the operation.
Training session

The Quake Jumpers check their equipment
"You've got to be completely self-sufficient, with a minimum supply of rations for four days," Malik told his team during a training session at the Pakistani army base in Abbotobad, now one of the main hubs for the earthquake relief operation.
Spread out on a tarpaulin on the ground was the equipment the men would need: tents, rucksacks, VHF (Very High Frequency) radios, satellite phones, compasses and dehydrated food packs. As the team checked its kit, Malik explained the plan of action.
Plan of action
"Helicopters are already reaching many places, and a good deal of progress has been made clearing landslides in the main valleys," he said.
"But the spurs off these valleys are still cut off, and many communities have yet to receive help. That's why we need to get up there and create more landing zones.
"We'll be airlifted into these remote areas and will make contact with the people. We'll assess their needs, and help them to make and maintain helicopter pads. We'll also tell them how best to receive and distribute relief supplies when they arrive."
Disrupted way of life

Malik demonstrates use of the satellite phone
The problems facing the mountain communities arise mostly from the disruption of their way of life. Many of the semi-nomadic farmers and shepherds living above 2,000 metres, for example, usually send their wives, children and older relatives down to shelters at lower altitudes for the winter.
But this year, they may have lost one or both homes or, with many roads blocked by landslides, be unable to take their surviving cattle down the mountain. In these circumstances they may decide to stay put, despite the terrible hardships the snows will bring.
Tough people
These are tough people who can walk miles in flimsy clothing just for a bucket of water. But their world has been turned upside down, and there's a lot of confusion


Independent Pakistani film-maker Nisar Malik
"These are tough people who can walk miles in flimsy clothing just for a bucket of water," says Malik. "But their world has been turned upside down, and there's a lot of confusion.
"Those who can leave the mountains should be encouraged to do so, and that'll be part of our job. There will also be some communities that want to stay, and they will need sufficient supplies to see them through the winter."
New helipads
The Quake Jumpers will be targeting settlements of about 2,000 people that are being visited rarely or not at all. The plan is to open up 25 new helipads in mountain locations in the coming weeks, but to do this the operation will need more manpower.
Malik's goal is to have 14 four-man teams working through the winter. He sees the coming weeks as an advisory phase, during which the Quake Jumpers will help people to organise themselves and make decisions for the impending winter. Their longer-term job will be to assist and, if necessary, rescue people who have become snow-bound.
First mission

The team loads its kit into the helicopter
The challenges facing the Quake Jumpers are all too evident as they embark on their first mission: an assessment visit to a community living at 1,800 metres on a spur of the Kaghan valley.
As the team fly deep into the mountains, the ruins of houses can be seen on almost every hillside, their collapsed tin roofs catching the morning sun, timbers spilling down the slopes like tumbled matchsticks.
Race against time
Some homes have obviously been abandoned but, in many places, tents or other temporary shelters have been erected amid the ruins.
With the food stocks of these mountain communities dwindling or exhausted, many people who were injured in the earthquake still desperately in need of medical attention and weather conditions worsening rapidly, the Quake Jumpers have their work cut out for them.