Pirates Constant Menace to Food Lifeline
14 April 2009
The high-profile hijacking of US ship Maersk Alabama by Somali pirates has thrown a spotlight onto the fragile food lifeline supporting WFP's operations to feed millions of hungry people in the Horn of Africa.
ROME -- Piracy in the seas off Somalia has long been a concern for WFP, which saw three of its ships hijacked or attacked in 2007. Because 90 percent of WFP food aid for Somalia arrives by sea, all our ships sailing to Somali ports now have naval escorts.
The European Union currently provides these escorts and the system has worked well. There have been no pirate attacks on ships loaded with WFP food heading to Somalia since the escorts began in November 2007.
First Mombasa-bound ship
But the hijacking of the Maersk Alabama marks a new development. The ship, which was carrying aid for several organisations including WFP, was heading for the Kenyan port of Mombasa when it was attacked. Read NYT story It was the first case of a Mombasa-bound ship carrying WFP food being hijacked.
The incident raises questions about the security of Mombasa as an entry point for WFP aid bound for hunger-stricken countries in east and central Africa.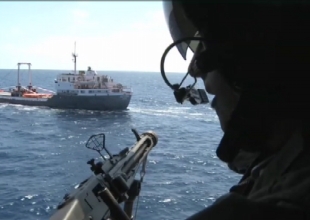 Mombasa is essential to WFP's operations in these areas. More than 500,000 metric tons of WFP food arrived in Mombasa in 2008 aboard more than 200 ships for the hungry in the region.
Risk of hunger for millions
If food assistance cannot arrive through Mombasa for Somalia, Kenya, Uganda, southern Sudan and the eastern Democratic Republic of Congo, millions of people will go hungry and the already high malnutrition rates will rise.
The Maersk Alabama duly arrived in Mombasa on Saturday and its food cargo was expected to be unloaded Wednesday. The food included 4,097 metric tons of corn-soya blend, which is used especially for combating malnutrition among children and their mothers.
The food is destined for Somalia, Kenya and Uganda where WFP aims to feed a total of almost eight million people because of drought and high food prices in 2009. Although it is just a part of the basket of food provided by WFP, it is enough to feed hundreds of thousands of people for a month.