Violence has dogged northern Sri Lanka for some twenty years as the government and Tamil Tiger rebels clash. Many people have been internally displaced and driven into camps. "Our future is a big question mark," one woman in the northern Kantale camp tells WFP spokesperson, Sandra Bissin.
"We did not even take clothes or food. Nor did we have time to lock our house. We have lost everything," says Ramila, 43, with a weary smile.
Sri Lanka is once again on the brink of war. Over 215,000 people have been displaced by the recent spate of violence in the north of the country, where violent clashes have erupted between the Liberation Tigers of Tamil Eelam (LTTE) and the government, despite a 2002 ceasefire and international mediation.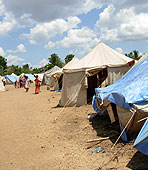 The camp at Kantale
Ramila and her family, along with thousands of others, sought refuge at a camp in Kantale after fleeing heavy shelling in the predominantly Muslim town of Mutur in the northeast of the country at the beginning of August.
The heavy bombing destroyed homes and wiped out mosques in the town.
Under attack
"During the attacks in Mutur, my husband, Junu, was injured by a gunshot at the thigh. I did not feel secure any more. When Junu came back from hospital, we decided to leave," Ramila remembers.
"It took us three days to reach Kantale, during which we had no food. We were terrified. We could hear bombs and fighting all the time," says Ramila.
"We walked for 15 kilometres with our children and then vehicles took us to the town. On our way, people gave us water, but we were afraid to talk to them.
Until Sri Lanka becomes a peaceful country again, it seems we'll have to suffer


Ramila
"Once at the camp, tents were distributed by local mosques, but it is too hot inside. And monsoon rains are coming… I miss our house, but I am still afraid to go back," she says.
Despite the ongoing violence, hundreds of displaced villagers are venturing back to inspect homes shelled during fighting.
WFP tackles needs
"We sent one of our sons back to Mutur so he could salvage what he could. He came back telling us our house was looted. We have lost all of our valuables," says Ramila.
Following the upsurge in violence, WFP started food distributions to meet the immediate needs of the civilian population.
Since May, WFP has dispatched 1,400 tons of food to IDP camps in the north and east.
"WFP normally distributes family food rations at retail outlets in collaboration with our government counterparts," explains Musthafa Nihmath, Programme officer with WFP.
"But under the current circumstances, the camps are congested, tents are too close to each other and do not allow family cooking because of fire risks: food is therefore dispatched directly to camp management teams and communal kitchens have been set up at all camps," explains Musthafa Nihmath, Programme officer with WFP," he says
Reflecting on the future
"I hope we'll be back home before the end of September, for Ramadan, the Muslim fasting month," smiles Ramila.
"Now, our future is a big question mark. Until Sri Lanka becomes a peaceful country again, it seems we'll have to suffer."
After enduring the twenty-year conflict between the Tamil Tiger rebels and the government and experiencing the 2004 tsunami, peace and calm must seem like a distant memory to many of those waiting in Kantale.