Palestinians reach out for a lifeline
20 June 2006
Ahmad and many children like him who can be seen rummaging through garbage cans in Gaza, are part of a serious humanitarian crisis unfolding in the occupied Palestinian territory. Mia Turner tells us about the gravity of the situation.
Poverty has soared in the occupied Palestinian territory as a crisis takes hold. WFP spokesperson Mia Turner looks at how the Agency is helping.
While most children are playing with their friends after school, Ahmad is rooting through scrap metal, trying to find the best pieces to sell.
If he is lucky, he might get less than one dollar per bundle. It might not seem much, but it is critical to helping his family survive.
Ahmad and many children like him who can be seen rummaging through garbage cans for metal, plastic and wood to be sold or discarded food, are part of a serious humanitarian crisis unfolding in the occupied Palestinian territory which affects the poorest sector of the population most heavily.
The Gaza Strip has been hit particularly hard by the financial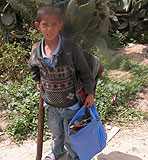 Children help their families by collecting metal and wood
crisis which has gripped the Palestinian Authority, frequent closures of the border crossings and skyrocketing unemployment.
Rising poverty
All have brought a rapid escalation in poverty and soaring market prices.
The impact of fishing restrictions and avian flu, which has led to the slaughter of hundreds of thousands of birds, have further worsened an already critical situation.
Often unable to afford an education, Palestinians are forced to send their children out to work or – if they are girls - into early marriages.
Many try to sell off their meager assets but the financial crisis means it is increasingly difficult to find buyers.
Struggling to make ends meet
As families run out of coping strategies, begging is on the rise and people try to make ends meet in any way possible.
But all the same, many poor families can no longer afford meat or fish and they eat less meals to save money.
The crisis affects almost two million Palestinians, or 51 percent of the population, who are unable to meet all their basic food needs.
The number of people needing humanitarian assistance is growing and WFP and the United Nations Food and Agriculture Organization have found a 14 percent increase in food insecurity in the oPt since July 2005.
WFP help
WFP is planning to increase its current caseload by 25 percent to cover 600,000 food insecure non-refugees in the West Bank and Gaza Strip in the coming months to reduce the negative impact of the current situation on the most impoverished Palestinians.
The Agency will help people like Awatef Naser Allah, who has ten children, five of whom are partially blind.
Six years ago her husband was a casual worker in Israel, earning US$33 a day.
When things get tough
But that stopped with the ban on employment in Israel for Palestinians. The scarcity of jobs meant the family's income dropped to zero.
Over the past few years, Awatef and her family have tried everything to keep their heads above water.
First they reduced spending, then savings were used up and assets sold off, and finally they had to turn to buying on credit.
Food for training
Then Awatef heard about the food-for-training project run by WFP and the Ministry of Agriculture.
She discussed it with her husband and he agreed that she attend to receive the food ration of 83 kilos of fortified wheat flour, six kilos of chick peas, three kilos of sugar and four litres of fortified vegetable oil.
The training included health and environmental awareness, animal husbandry, gardening and water usage.
With renewed confidence, four months ago Awatef started to apply what she had learned by raising rabbits.
A balanced diet
With the avian flu in Gaza and the soaring prices of fish and meat, she was looking for an easily available source of animal protein.
Awatef bought two rabbits and applied what she had learned in the Ministry of Agriculture classes. Sixty days after she started she had 40 rabbits.

Awatef tends to her rabbits
The little rabbit-breeding business has created a monthly income of US$110 and has provided a more varied diet for Awatef's family.
Lifeline
In these times of food insecurity in oPt, WFP's assistance has become a lifeline for many Gazans like Awatef.
But WFP's overall emergency operation, which will cost US$110 million for two years and is still facing a severe funding shortfall.
Without extra funds, people like Awatef, who relied on WFP aid to feed her family and generate some hope, could be facing a dark and difficult future.