One O'Clock's luck - returning to south Sudan
29 September 2005
WFP public information officer Anja Du Toit tells the story of one young returnee to south Sudan who was lost and found on the journey home. This article first appeared on the Guardian Unlimited website.
One O'Clock, or "Sahwat", was 10 months old when Noura Sawa Abu found him crying in the high grass and named him after the time it was when they were attacked by armed horsemen in south Sudan; the time when his parents dropped him as they fled for their lives.
With his new family, One O'Clock lives in a returnee village on the outskirts of the southern town of Rumbek, where they arrived a year ago after a seven-month journey on foot across the centre of Africa's largest country.
Heading south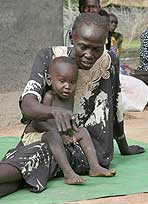 Long before Sudan's 21-year civil war came to an end in January this year, Noura and four of her nine children left the capital, Khartoum, and took a bus as far as they could towards Rumbek.
The bus dropped them in the town of Abyei in Northern Bahr El Ghazal in December 2003.
Noura says she felt the peace negotiations looked promising and, after living with her husband as displaced people in Khartoum since before their first child was born, she wanted a normal life.
An unrecognised degree
Noura was trained as a nurse and had worked at a hospital in the city of Wau in the south for a few years before the war forced her to flee. In Khartoum, her nursing qualification wasn't recognized.
"No one wants to acknowledge a degree from the south," Noura. "I went to the governor in my despair and he advised me to take up washing and cleaning – like other southerners."
So she washed clothes for 15 years to feed her family.
Escorted by soldiers
I was scared they were waiting for us to move and would shoot again

Nura Thawa, returnee to south Sudan
On reaching Abyei, Noura and her family waited for two nights with 22 others who also wanted to go south. Due to the insecurity, government soldiers were escorting people out of town.
Noura did not speak to any of the others in the convoy, as the soldiers wanted them to move fast – to get the job over and done.
About half an hour after saying goodbye to their escorts, the group came across the much-feared Murahaleen, armed horsemen much like the Janjaweed who have been attacking and killing in Darfur.
Running for their lives
The group were terrified but the horsemen moved on, so they walked as fast as they could. Minutes later, they heard shots fired from the direction of the Murahaleen.
The small group ran for their lives in all directions, and in the turmoil Noura lost her youngest boy, who was five.
"For a long time, I lay in the grass without moving," Noura says. "I was scared they were waiting for us to move and would shoot again. When I got up, I couldn't find my boy."
A baby's cries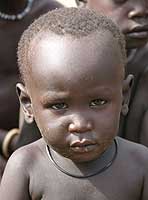 Noura started hunting for her child, but she didn't dare call out for fear of attracting the horsemen's attention.
In panic, she began searching the bushes and high grass when she heard a baby crying… a tiny boy of around 10 months, who was crying for his mother's breast.
Noura recognised him as belonging to a young mother who had been in the group when they were attacked. She was nowhere to be seen.
No trace of mother
To ease the baby's fear, Noura put him to her breast, although her milk had long since dried up. She carried on searching with the infant she named One O'Clock clinging to her.
Fortunately she was reunited with her own son, but there was no trace of One O'Clock's mother or, for that matter, any of the other travellers.
Getting an education

One O'Clock is now two years old and lives with Nura and her four children in the returnee village of Jiir in Rumbek town, where they receive food aid from WFP.
For the first time in their lives, Noura's children are going to school, and she herself has enrolled in an English literacy class, as she only knows Arabic.
Like so many others flooding back to the region, they are hoping to rebuild their lives in south Sudan. But with the influx of returnees straining local resources to the limit and food stocks declining at an alarming rate after a poor harvest, their future still looks uncertain.