Nothing left, and no aid on the way: Zambian lives in peril
02 November 2005
Introduction
WFP has warned that the lives of many Zambians could be in peril, as the number of people needing food assistance in the country has climbed to at least 1.7 million, due to crop failure and rising food prices.
WFP spokesperson Jo Woods met two women in southern Zambia whose stories (below) are typical.
Soaring prices, distress sales
Maize prices have risen by up to 60 percent from a year ago, pushing this basic cereal beyond the reach of the poorest people.
At the same time, distress sales of livestock have increased significantly in the last month, with one cow now fetching half its normal worth in cash or four 90-kilogram sacks of maize. The price of chickens has plummeted to a third of their usual value. Most people have nothing left to sell.
In some areas, meals have been drastically reduced and there are reports of migration to urban centres in search of food.
Urgent need for funds
Zambia was one of southern Africa's success stories, producing agricultural surpluses in the last two years. Now, WFP urgently requires US$32.8 million dollars to feed up to 1.1 million Zambians through to the next harvest in March.
Individual contributions will make a difference to hungry families in Zambia. To find out more about how you can help, click here.
Josephine Kachabe, Tiki Mwiinga village, Gwembe District, southern Zambia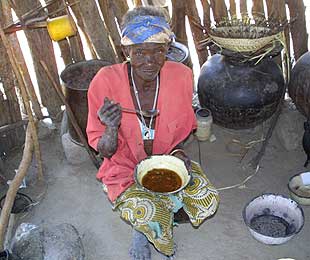 Josephine Kachabe cannot remember the last time she ate properly.
Yesterday she ate nothing. The day we visited she ate a small bowl of wild foods that village children had spent the day collecting; things such as seed pods, water lillies, marula nuts, certain tree roots and pods from the baobab tree.
Many of these foods are poison and require hours of soaking and boiling, and so bitter they must be mixed with ash to make them palatable. Josephine soaked her meal for a full day and then mixed it with wood ash. Tomorrow she does not know what she will eat.
Common story
This is a story being played out hut by hut across southern Zambia. No one has any maize stocks left, most people have sold off their livestock apart from a breeding pair, and there is little or no food assistance on the way.
The lean season started months early this year – August instead of January.
Bleak prospects
I feel most sad that we are not receiving any help. I think if help comes it will be too late; I will be dead

Josephine Kachabe
Almost every day the newspapers carry horror stories about families dying because they have not properly prepared their meagre meals of wild foods.
The rain in southern Zambia is late again. For the second year running, seeds and fertiliser are not available and even if they were, no one has any money left to buy them. Prospects for the next harvest are bleak.
Failed harvest
At the ripe old age of 83, Josephine - a widow - has no one to help her farm her fields. When the rains arrived last year she planted what little maize seed she had. With the help of others in the village she erected a large storage bin for the harvest she anticipated. But the rains did not come and she failed to harvest a single maize cob.
Born in 1922, Josephine does not remember a year worse than this. She says in previous years she would receive assistance from her neighbours, but this year everyone is desperate and the only help she gets is from children, who try to find her wild foods lying on ground.
Overwhelming desperation
Everyone in the village wears rags. The sun-bleached fields lie fallow. The dogs are starving and many people believe they will be next.
Many children in the village have stopped going to school. It's a four-hour walk away and many are too weak to make the journey. They say feel exhausted and fall asleep on the roadside.
Josephine sums up how many people feel right now, as the desperation becomes overwhelming: "I feel most sad that we are not receiving any help. I think if help comes it will be too late; I will be dead."
Rita Munene, Kalikwaya village, Monze District, southern Zambia
On the outskirts of Monze in southern Zambia, Rita Munene stares at her barren field and wonders what the future will bring.
The rains are late this year but she has no seeds or fertiliser to plant anyway. Her granary is empty, her dog is starving, and her youngest child cries himself to sleep every night – her breasts are empty of milk.
She says her children have not eaten for several days. The older children understand that there is nothing to eat and try to console their younger siblings. Each day they scour the villages, begging door-to-door and climbing trees looking for any wild foods still remaining.
Exhausted food supplies
The drought has been more devastating this year than in previous years. We planted maize but it just didn't grow

Rita Munene
Rita lives with her cousin and six children. Their story is disturbingly common across southern Zambia, where food supplies ran out months ago.
Since her parents died and her husband left her, just after the birth of her youngest child, she has tried to work the fields beside her house to make ends meet.
Devastating drought
Last year she was able to grow enough food to feed her family, but this year she was not so fortunate, harvesting just 90 kilograms of maize, which ran out in June.
"The drought has been more devastating this year than in previous years. We planted maize but it just didn't grow," she says.
Since March Rita has been trying to find piecework on other farms or near the town, but piecework is scarce this year.
Prostitution for survival
The councillor of the district, Enock Hamachila, complains that he's finding girls as young as 12 in the nightclubs in town, selling themselves for the promise of food. Tragically, many Africans use prostitution as a survival technique when they have no other options.
Zambia has one of the highest HIV/AIDS rates in the world – one in five adults is infected. Life expectancy has plummeted to a mere 37 years of age.
Food shortages are now so severe that hospitals throughout southern Zambia are reporting that people are dying as a result of taking what should be life-saving antiretroviral drugs, because they don't have food to cushion the harsh effects of the medication.
Scrounging a meal
Back in Rita's village, her children have managed to scrounge enough maize for one meal from the floor of the hammermill several kilometres away. Even though food is scarce, Zambians will share whatever little they have with their neighbour, and Rita's family is no exception.
The food shortages in their area are made worse by an acute lack of water; river, boreholes and dams are at their lowest levels in 12 years.
Every day, Rita and two or three of her children walk up to 10 kilometres in the searing heat to search for water. When they return they are tired and hungry, and still there is nothing to eat.