Tens of thousands of poor, hungry children will soon start to enjoy a nutritious daily meal in class after the Government of Madagascar funded a massive expansion of the school feeding programme in the southern province of Toliara.
The US$2.4 million contribution from the Ministry of National Education (MNE) will ensure that children in 611 primary schools across the province will benefit from the school canteens programme, which is supported by the United Nations World Food Programme (WFP).
"The government's support for school canteens will help to raise school attendance rates and assist thousands of poor and food-insecure children in Toliara," said the Minister of Education, Stangeline Ralambomanana Randrianarisandy.
"Considering the very productive and constructive relationship between the Ministry of Education and WFP, we are confident that we will jointly help to improve the lives of thousands of vulnerable children."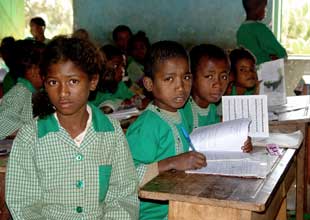 School children in the southern town of Ambovombe
Coupled with a previous allocation in December 2007, the Malagasy Government has now provided US$3.9 million to extend school feeding in Toliara – more than doubling the number of children assisted by WFP from 60,000 to 150,000.
WFP has been providing daily meals to students in 272 primary schools in Toliara since 2005. With this latest contribution from the government, WFP will now supply school meals to children in 883 schools across the province.
"WFP strongly supports the government's policy of 'Education for All' and this generous contribution shows how committed it is to ensuring that children have access to one of their fundamental rights – education," said Krystyna Bednarska, WFP Representative in Madagascar.
"Expanding school feeding across Toliara will help tens of thousands of children and help the country move a step closer to achieving the Millennium Development Goal of universal primary education."