Introduction
WFP school meals offered to children at Stara school in Nairobi's slums, give them the incentive to go to school and concentrate on their studies. WFP's Marcus Prior talks to Lorna Likhanga, a WFP relief worker who ensures hungry schoolchildren receive food.
What was your impression when you first started working in the slums?
I was very shocked. When I worked in Kakuma refugee camp in northern Kenya, I thought it was bad, terribly bad. But when I came to the slums of Nairobi I thought it was worse!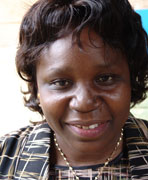 Lorna Likhanga
The poverty levels are so high – when we were doing assessments, we'd find people who had not eaten for three days and were so weak they were sleeping, so someone would have to speak on their behalf.
Some people we had to buy food for, just so we could revive them and interview them. At least in the refugee camps they had decent toilets, but in the slums, the sewage is terrible.
If the parents had not been eating for three days, the children coming to school must have been very hungry too?
Before we started give school meals in Stara school in Kibera, the teachers told us that many times children were fainting at the morning assemblies, not because of illness but because of hunger.
And as soon as they had some bread and milk they were up and about again. Even at one point when there was a delay in

The teachers have said that during the school holidays they see some children loitering around the school with empty plates

the delivery of food, teachers reported that children were fainting again and others were not coming to school.
The Stara school in Kibera only had 230 pupils when we started our programme. Now they have 530. So the food has really brought the children to school because they know they will get a meal there.
How has the food impacted the performance of the children in the classroom?
A child who was getting 50 percent in a test is now getting 70 or even 80 percent because of the food.
Of course we know that the teachers have a lot to do with it, but if you teach a hungry child you get nothing – if you teach a child who is satisfied they will be able to concentrate and understand and answer questions.
I hear some of these children take food back home with them in the evening.
Yes, you find that the children often will not eat all of their food at school so they can take it home for their brothers and sisters who don't go to school. The mid-morning snack, they do eat because it is often their first food of the day.
But when it comes to lunch, try to look in their bags and you will often find food there. Some even put it in their pockets.
Initially we were very strict and we told the teachers this was not allowed – we tried to control it, but the children were crying, saying they had a sibling back home who had nothing to eat at all. And if a child says they have eaten enough, what can you do?
Have you been able to talk to the students themselves to understand just how important the school meals are for them?
They tell me 'Madam, you know this programme has really been a great help to me'.
Some of them are orphaned by HIV/AIDS, and some of the orphans have seen their guardians killed in the post-election violence. So they solely depend on this food.
It is all they have to eat. At least they get this nutritious meal to keep them healthy and strong. They say they like the quality of the food as well – we are giving them what they like.
What happens during the school holidays?
You see some very sad faces when you talk to the children at the end of term. They ask you "Will you be giving us food during the school holidays?"
The teachers have said that during the school holidays they see some children loitering around the school with empty plates – just praying that by some miracle they will be supplied with some food. In some schools they try to do some holiday feeding with some private donations, but otherwise there is nothing for them.