Josephine Bongoa was banished from her home in the Central African Republic when her family discovered she had HIV. She and her daughter try to keep strong as they face the disease alone with anti-retroviral medication and WFP food aid. WFP spokesperson Marcus Prior tells their story.
Hospitals can turn your stomach inside out as desperate homes for the dying, or they can lift your heart with the hope of a new life beyond misfortune, infection and disease.
But at the end of a dark corridor in Bangui's Complèxe Pédiatrique, the only specialist institution of its kind in the Central African Republic (CAR), a little hope is being handed out cup by cup.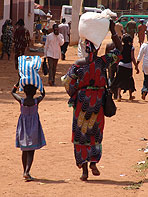 Josephine and Deborah take their food home
Each week, it distributes anti-retroviral medication (ARVs) and a food ration supplied by WFP free of charge to those who have been fortunate enough to find themselves 'on the list'.
For Josephine Bongoa and her six-year-old daughter Deborah, both of whom are HIV-positive, the Complèxe Pédiatrique is a lifeline.
Josephine is clearly an educated woman. She speaks excellent French.
Deborah is her mother's daughter – confident, smiling and unafraid of strange faces.
Abandoned
Their lives were turned upside down when Josephine, or rather her family, discovered she was infected with HIV.
"When it became clear to them that I had this illness, my entire family abandoned me," she says, without a trace of self-pity.
"My husband threw me out of the house and then sold it," says Josephine.
"I moved away from my village and now have to survive on my own – I brought Deborah with me because she was young and ill."
Josephine and Deborah travel to Bangui once a week from their home 47 kilometres north of the capital.
Too ill to work
The 1000 franc fare (about US$2) each way is barely affordable, but Josephine knows that their lives depend on it.
"I do not have the means to support myself and this food gives us enough to eat," she says.
"I am also ill and every time I try to work the fields I get even worse.
"I simply have to come here because without these rations I would not be able to live. I can prepare the flour and beans with the oil and we have something to eat. It gives us strength."
HIV rates spiralling
HIV infection rates in CAR have spiralled from three percent in 1987 to 15 percent today.
The 2,000 mothers and children in the HIV/Aids programme at the Complèxe Pédiatrique are the lucky ones – they represent only a small fraction of the Central Africans affected by the disease.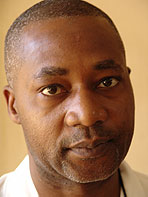 Dr Jean-Chrysostome Gody
"The numbers are increasing all the time," says hospital director, Jean-Chrysostome Gody.
"With HIV, even if we treat children with ARVs, the problem of malnutrition often remains, so you can easily understand the importance of WFP in this work.
"We quite simply have no other partners in our work here. Even if we were to get new partners tomorrow, the importance of WFP would remain the same – WFP has an enormously important role to play in the work of this place."
Josephine and Deborah leave the hospital, each balancing a sack of food on their head. They will, of course, be back the following week.