Life after Jeanne: one year on from the floods in Haiti
14 September 2005
Storm-battered Gonaïves
One year after tropical storm Jeanne hit the coastal town of Gonaïves in northern Haiti, the huge task of rebuilding the homes and livelihoods of thousands of people remains.
The floods sparked by Jeanne left a trail of death and devastation, killing 3,000 people and leaving close to 300,000 in need of assistance.

WFP immediately launched an emergency operation; within two days, its convoys were on the road, taking humanitarian food aid to survivors.
The operation was carried out in cooperation with CARE, WFP's partner in Gonaïves. For six months, up to 160,000 people – the vast majority of them women and children – regularly received WFP food aid to help them cope with the disaster.
One year after the storm struck, WFP's public information officer in Haiti, Anne Poulsen, returned to Gonaïves to talk to some of the survivors about life after Jeanne.
Marie Jean Sylverin

Marie Jean Sylverin, 42, lives in Amba Pointe with her four daughters, aged between five and 15. Before Jeanne struck, she was a street vendor selling charcoal and sugar cane. Now she has nothing to sell.
The floods washed away everything she owned and completely destroyed her home, but she managed to build a little shelter for herself and her children from the rubble of the town's destroyed houses.
Five in a bed
One year after Jeanne, she and her family still live in this shelter, just big enough for one bed in which all five of them sleep. Marie Jean has not had the means to build a new house.
The food she received from WFP during the first six months after the emergency helped her a lot, she says; it allowed her to spend the little money she had on sending her children to school.
"Nobody was spared"
But now she spends the money she scrapes together on food, and can't see how she will be able to send her children back to school.
"It's the same situation for everyone who lives in this area," she says. "Nobody was spared. I wish that something could be done, for me and all the others who live here."
Valcius Valbrin

Valcius Valbrin, 87, lives in Amba Pointe with his 57-year-old wife. He has two daughters, aged 40 and 21. He is blind but used to work as a fisherman and make handicrafts before he retired.
When Jeanne struck Haiti one year ago, Valcius was brought to the Eglise de Dieu Maison de Refuge, where he and his family were given shelter. They had lost everything to the floods; the only things they had left were the clothes they were wearing.
Waiting for repairs
Their house also suffered major damage – one wall was ripped off. It has still not been repaired, despite the fact that a year has passed.
In fact, not much has been done for the city of Gonaïves during the last year, says Valcius.
"Nobody was spared by Jeanne. Everyone suffered – poor as well as rich. So if something could be done for the city, it would really be good, because everybody needs it. Young and old, poor and rich," he says.
Rice, beans, oil
Valcius was one of 160,000 people affected by the floods who received food from WFP during the first six months after the disaster.
"The food helped me out of a really difficult situation," he says. "But the situation is still complicated. Life is very expensive. Rice, beans, oil - it's all very expensive."
Celissa Pertil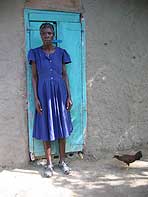 Celissa Pertil, 51, lives alone in Desronvilles. A street vendor who sells fruit and vegetables from her garden, she has three daughters aged 25, 22 and 18, and six grandchildren.
When the floods hit Desronvilles, Celissa was carried 500 metres from her home by the force of the water. She was saved by a palm tree, which she clung to throughout the night until she was rescued at five o'clock the next morning.
Washed away
Her house had been completely washed away, along with the goats, pigs, chickens and cows that she was raising. The floods had also killed one of her grandchildren, a 12-year-old girl.
Celissa explains that life remains very difficult one year after Jeanne. She still lives in a temporary shelter, a little clay hut that she is afraid to stay in when it rains. A group of neighbours are helping her build a new house, but work is progressing slowly because she doesn't have money to buy materials.
"I don't eat every day"
For six months, Celissa received the WFP food that was distributed by CARE in Gonaïves. And it was thanks to this food that she survived, she explains.
"Now I don't eat every day. It's very difficult to find food," she says. "Yesterday, I did not eat. If I find something in my garden that I can sell, I have money to buy food. And if not, I go to bed without eating."
Roseline Florvil

Roseline Florvil, 35, lives in Parc Vincent I with her five children, aged between five months and 11 years old. She is a street vendor who sells rice, beans and oil.
Like thousands of others in Gonaïves, Roseline lost everything she owned when Jeanne hit the town, including her home, which was completely destroyed by the floods.
The little money she earns as a street vendor is far too little to feed her children, let alone send them to school. Her oldest child, a boy, has not been to school for two years now, she says.
Washing, ironing, begging
"The situation is really difficult. To get a little extra money, I wash and iron other people's clothes. I even beg, so that I can afford to give my children something to eat. But I don't know how I would be able to send my kids to school," she says.
She is hoping that the distributions of international aid Gonaïves residents received during the first six months after the disaster will be resumed. "It is very much needed – by everybody here in Gonaïves," she stresses.