Despite the worst drought in 30 years, farmers in Lesotho have produced enough food to feed themselves and their families - and sell the World Food Programme what's left over. WFP spokesperson Richard Lee visited a group of farmers who are looking forward to a brighter future thanks to WFP purchasing their food.
For the first time in her life, 52-year-old Maleetoane Khali has money. Not a lot but enough to send her older children to school and to buy previously unaffordable necessities like

Before I never thought about the future because all I could think about was my empty stomach


Thabo Kalane, small-scale farmer
soap and salt.
More importantly, the money has made her believe that she can permanently pull her family out of poverty and hunger. The source of her new found 'wealth' is the World Food Programme (WFP).
But Khali is not a beneficiary. Nor did she receive a hand-out. Instead, she was paid a fair price for the surplus crops she produced – part of a historic deal that saw WFP buy maize from small-scale farmers in Lesotho for the very first time.
Hopeful vision
"I am hoping to grow even more crops in the future so that we never have to worry about being hungry again and to get more money to improve our lives," said Khali, who lives with her husband and eight children in a tiny village high in the mountains.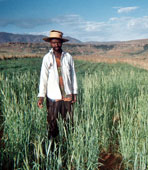 Thabo Kalane
It is a hopeful vision that is echoed by the other 19 farmers from Tebellong who sold their maize to WFP under this unique scheme.
"I am in the fields all day because I want to sell even more because I am thinking of building a new house and other things," said Thabo Kalane, who sold 100kg of maize from this year's harvest.
"Before I never thought about the future because all I could think about was my empty stomach. But now I have big plans," he said.
Buying locally
In Tebellong, WFP bought 8 metric tons of maize for US$2,800. It is a sizeable sum in a country where more than a third of the population lives on less than US$1 a day.
WFP wants to increase the amount of food that it buys from small-scale farmers because even a tiny purchase can have a huge impact on their lives.
Buying locally in this case was also more economical. WFP saved US$45 per ton by buying in Tebellong and distributing to beneficiaries nearby rather than by shipping the maize in from neighbouring South Africa.
Creating a market
Along with the immediate injection of cash into people's pockets, the purchase laid the groundwork for a viable market

The answer to our problems lies here in our fields and what we are doing can be an example to the rest of Lesotho


Reverend August Basson of the Evangelical Church of Lesotho
for the farmers, giving them a real incentive to grow as much maize as possible in the years ahead.
And they need all the help, encouragement and incentives they can get because life in the mountainous district of Tebellong has never been easy. Droughts, soil erosion and soaring HIV/AIDS rates have battered the poor and isolated area in recent years.
"It was so hard to survive here especially between 2002 and 2004. Those were very bad years," said Khali. "There was real hunger up here in Tebellong. The harvests were very small and people were starving. Really from my heart, it was hard."
Conservation farming
Conservation farming techniques helped farmers such as Khali produce a surplus last season, despite the worst drought in 30 years.
"Five years ago, most of these farmers were begging at my gate, now they are growing more than they can eat," said Reverend August Basson of the Evangelical Church of Lesotho, who has been the driving force behind the spread of the new agricultural techniques in Tebellong.
"Next year I hope to sell some of my food to WFP because they give a good price and because they come and buy here so there we don't need to worry about transport," said 52-year-old Mamonaheng Telekoa, another farmer whose life has been transformed by conservation farming.
Efficient
Much of the maize has already been distributed to children across the surrounding district of Qacha's Nek as part of WFP's school feeding operation, which provides poor, hungry students with both vital nutrition and a real incentive to turn up for class. By using crops grown nearby, WFP saves money, increases efficiency and reduces its overall carbon footprint.
It also gives the farmers of Tebellong yet another reason to feel proud and hopeful about the future.
From small acorns...
"It was only a small amount this year but it is a start," said Basson, who is finally seeing years of hard work and patient advocacy paying off. "Maybe next year there'll be big trucks leaving Tebellong full of food to help people in other parts of Lesotho."
"The answer to our problems lies here in our fields and what we are doing can be an example to the rest of Lesotho," added Basson. "Who knows? One day we might finally work WFP out of a job."