It's a long way from the ancient city centre of Rome, Italy to Nayapara refugee camp on the Bangladesh-Myanmar border.
It's just an amazing concept that someone thousands of miles away can be at their computer ... a click of their mouse means that rice ends up here in Bangladesh.


WFP aid worker, Dhaka
But, thanks to the award-winning online vocabulary game FreeRice, Bangladesh, Myanmar and many other poverty-stricken countries, are just a click away for pupils of Rome's "Ambrit" international school, who want to help feed the world's 854 million hungry people.
Each time a FreeRice player clicks on a correct word definition, 20 grains of rice are donated to the World Food Programme to combat world hunger. That might not sound like much but with millions of other people playing the game around the world, the overall total amounts to hundreds of metric tons of rice.
First to benefit
Since its Oct 7 launch in 2007, an average 500,000 people have been clicking on the game daily, accumulating enough rice to feed some 700,000 people for one day, including 27,000 refugees from Myanmar, primarily members of an Islamic ethnic minority known as "Rohingyas" sheltering in Bangladesh.
WFP's efforts to feed the refugees at two camps near Cox's Bazar in south east Bangladesh is among the first operation to receive food rations thanks to FreeRice.
Uganda, Cambodia and Nicaragua will be the next to benefit; in each location, WFP is using FreeRice donations to purchase its rice rations from small-scale, local farmers – a big boost for the local economy.
Forgotten Population
"It's just an amazing concept that someone thousands of miles away can be at their computer at home in America or Europe. A click of their mouse means that rice ends up here on the ground in Bangladesh," says Lindy Hogan, a WFP programme officer working at Kutupalong and Nayapara refugee camps.
The rice I receive from WFP allows me to feed my family adequately.


Gool Bahar, "Rohingyas" refugee in Myanmar
The "Rohingyas" refugees now receiving FreeRice fled religious and ethnic persecution in Burma's North Rakhine State 16 years ago. Many have returned; the rest prefer to put up with the cramped living conditions of a refugee camp rather than go back.
Housing is basic: a bamboo shed houses each family. Poor sanitation takes an inevitable toll on mother and child health, with worms, diarrhoea and skin diseases common. Everyone is dependent on WFP food assistance, including Hasina Begom, a 32-year-old widow and mother.
"My husband died while fishing in the ocean three years ago. I have an eight-year-old daughter. As my husband is dead, there is no one who can go outside the refugee camp to earn a living for our family. I am totally dependent on the rice given to me by WFP," she says.
Fellow mother and refugee Gool Bahar, aged 39, is also grateful to FreeRice.
"There is no male in my family who can leave the camp and earn an income for my family. I have a small kitchen garden where I grow a few vegetables that I use for my family and also sell to other refugees. The rice I receive from WFP allows me to feed my family adequately," she says.
"Thanks to FreeRice, these people, who are pretty much a forgotten population, can eat today and have breakfast, lunch and dinner," adds Hogan.
Brains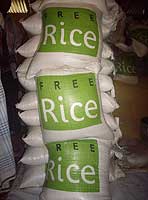 WFP food rations purchased with FreeRice donations reach "Rohingyas" refugees from Myanmar sheltering in Bangladesh.
John Breen, an American computer programmer from Bloomington, Indiana, created FreeRice as an incentive for his two sons, aged 13 and 15 years, to learn vocabulary at high school.
However, Breen's long-term interest in reducing global poverty and hunger meant the site was destined for a far bigger audience. On the day of its October 7 launch, FreeRice raised 850 grains -- equivalent to 10 players. Three days later, 1,000 people were playing the game; within a month, that figure had risen to hundreds of millions.
"Given the chance, everyone I know from all walks of life, old and young, would like to see world hunger ended. I think FreeRice's success proves it," says Breen.
The click to donate concept is as simple as it is ingenious: big-name sponsors pay for web banners that appear at random on FreeRice vocab tests. Their ad dollars are then donated to WFP. In less than three months, Breen has already sent cheques worth US$213,000 to WFP's headquarters in Rome, Italy.
The game's rich vocabulary of over 10,000 words has attracted players from around the world, from students learning English as a second language to pupils studying at primary and secondary schools.
"One of the nice things about FreeRice is that people in their home or their school can actually do something about world hunger. They can give a little bit of rice or a lot depending on how much time they have," says Breen.
Viral sensation
The site is an international, viral sensation with over 100 communities on Facebook playing the game and people posting their thoughts about hunger on YouTube. It's phenomenal success won Internet recognition on January 7 when FreeRice won the best new website prize in the charity category of Yahoo! UK & Ireland's "finds of the Year" Awards.
As a "Rohingyas" refugee mother sifts the rice that she will put on the dinner table for her family in their tumbledown house in Nayapara camp, she could be forgiven for not worrying about the origins of her next meal.
But, thanks to FreeRice, millions of people from Thailand and Germany to India and the United States do care – and, with a click of a mouse, they can do something about it.