Tuberculosis is on the rise in many countries after years of steady decline. People living in conflict zones, such as Chechnya, are particularly vulnerable as they face a daily battle against malnourishment and stress. Mia Turner tells us the story of Ruslan.
Ruslan is 46 years old but looks much older.
He is waiting for us in Gudermes Hospital in Chechnya to talk about the illness that has changed his life: tuberculosis.
I understood that TB-infected people needed good food and expensive drugs to recover and I knew I couldn't afford either


Ruslan talking about his battle with TB
It is an icy winter morning when we meet him, with Chechnya looking more like Siberia than the mountainous region of the Caucasus.
Ruslan is easy-going but is obviously embarrassed to talk about a disease that is still widely stigmatised and which can be fatal.
Shame
He is the first in his family to contract TB, he explains, and he is ashamed.
Life was turned upside-down in 1994 with the start of the first Chechen conflict. This was when Ruslan lost his livelihood and ultimately his health.
He managed to put some food on the table with odd jobs here and there.
However, the food was never enough and Ruslan gave his share to his children so they would not go hungry.
Cold and starving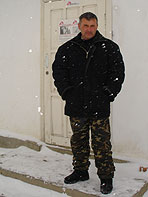 When the second Chechen conflict erupted in September 1999, Ruslan's quiet village of Komsomoslkoye became a raging battlefield, with people's homes being bombed for two weeks running.
Many people fled north.
"My family stayed hiding in our cellar. It was cold and we were starving," recalls Ruslan.
Shock
"Sometimes I felt as if the whole population was on the verge of a nervous breakdown. Children walked around in shock, either retreating into silence or crying," he says.
"There were no tranquilisers or medication available to calm people down.
"Some men treated their nerves by drinking alcohol but I did not belong to them. I thanked Allah that my family had escaped death," he adds.
Malnourishment and stress
Even when Komsomoslkoye became quiet again, life did not return to normal.
Malnourishment and stress began to eat away at people's strength to recover.
Ruslan also felt worn down by his uncertain situation. Soon he caught flu which brought on a cough that would not disappear.
TB diagnosis
It was a real blow when he found out that what he actually had was TB, a disease which takes a huge physical and financial toll.
"I understood that TB-infected people needed good food and expensive drugs to recover and I knew I couldn't afford either," he explains.
Medicins Sans Frontier-Holland and WFP solved both concerns by providing Ruslan with the necessary medicine and food.
Today, Ruslan is among some 650 TB patients WFP is assisting in the region
A climate for illness
The increasing number of TB patients in the Caucasus is of growing concern and could be far worse than originally thought.
In conflict areas like Chechnya, the spread of TB is hard to gauge because of the stigma attached to it and because the security situation does not allow for surveys to take place.
However, doctors working in the region are convinced that existing malnutrition rates and permanent stress combined with unemployment and growing poverty have provided a climate for the disease to take hold and grow.
Last year, 10 patients in the TB ward in Gudermes hospital died from the disease.
The majority of the patients are men like Ruslan: aged from 20 to 60 and burdened by the inability to provide for their families.
Added threat
This year, TB patients like Ruslan, who is still undergoing treatment, are facing an added threat.
Funding shortages mean WFP's overall operation in the North Caucasus is experiencing considerable shortages of basic necessities like wheat flour, oil, oats, millet and salt.
The Agency, which has been operating the Northern Caucasus since 2000, normally provides food aid to one third of Chechnya's population (see box) but today lack of resources is limiting WFP's assistance to school feeding.
As a result, people living with TB are no longer receiving the food which is considered so vital in helping patients recover and also in encouraging them to finish their treatment.
Ruslan's dream
Sometimes I felt as if the whole population was on the verge of a nervous breakdown


Ruslan on the effects of the Chechen conflict
Prior to the funding shortages, Ruslan's health was returning thanks to DOTS treatment (Directly-Observed Treatment Short-course), a method in which patients are observed while they take their medicine.
However, without continued food assistance, this recovery will not only be slowed, it could be reversed.
WFP hopes more food will be available at the start of April. Ruslan's dream of going back to work and providing for his family depend on it.