Tens of thousands of people from the Central African Republic have sought refuge in neighbouring Chad over the past three years following violence and insecurity in their homeland. Marcus Prior tells us more about the waves of refugees who cross the border.
It is the end of the road. Beyond a battered white sign announcing the frontier and a checkpoint manned by catatonic men in military fatigues lies the Central African Republic.
If peace returns to Central Africa then I will go back, but the fact is that there is still widespread insecurity there


Gaston Ngaba fled the CAR following a militia attack
A hundred metres or so inside the Chad border stand two huge mango trees, and beneath their fruit-weary branches sit at least one hundred women and children and a few men.
Since June last year, several thousand people have crossed the border into Chad, fleeing violence perpetrated by a wide range of armed groups and marauding bandits profiteering from the insecurity.
Lawlessness
A total of 45,000 CAR refugees have fled to Chad since 2003.
The CAR government recently acknowledged the existence of a rebel force they say is loyal to former president Ange-Felix Patassé and confrontations between the two sides in the lawless northwest appear to have sparked a wave of new arrivals in Chad in recent weeks.
An unknown number of people are believed to be living in the open within CAR itself following attacks on their homes.
Militia raids
"The situation is terrible," says Zahra Mohammed, clutching the youngest of her seven children closely to her.
At arms length is one of her daughters, suffering from a high fever, most probably malaria.
Zahra speaks boldly, her hands animated, but her eyes are dark pools of fear and pain.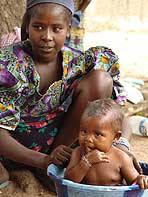 Refugees get on with their daily chores living outdoors
"Our village, Bossangoa, was attacked by militia and my husband was killed. About twenty people were killed in the attack – I don't know the exact number, it was chaos," says Zahra.
"They also took another twenty of our men and threw them in prison. I collected my husband's body myself in order to make sure it was buried properly.
"I am not the only one here who has lost her husband," says Zahra pointing to a young pregnant woman sitting next to her. "Her husband was killed too," she says, and falls silent.
Easy targets
A member of the nomadic Peul tribe, Zahra and her family were particularly vulnerable to bandits as traditionally her people move with all their wealth and belongings and are easy targets.
Zahra and her fellow new arrivals have been awaiting screening and registration as refugees before being transported to one of two camps 35 kilometres north of the border at Goré.
There they will receive food rations from WFP, as well as a tent and other items to help them begin to rebuild their lives.
Life in the camps
Since they first took shape in 2003, the camps of Amboko and Gondjé have developed a life of their own – there is even an impromptu satellite television 'theatre' where 100 francs (about 20 cents) will buy you a seat in front of the latest big football match.
In World Cup year, the local entrepreneur is likely to make a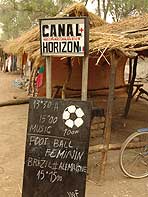 Sports cafe at Amboko refugee camp
big profit.
The impact of the refugees on the environment is stark.
All around Amboko, the forest has been hacked to its knees in the daily search for firewood. There is little that will grow back.
The place will never be the same again.
Fortunately, relations with the inhabitants of the area remain good.
Far from home
Gaston Ngaba is 50 years old and far from home. At least he has his wife and five children with him.
Having recently arrived at Amboko, he and his family have their tent and their first rations from WFP.
They fled from Paoua, a town in which the CAR government has acknowledged killing 27 civilians during an attack on January 29.
"At the time of the attack we just ran – we were not able to bring anything with us – we left every last thing behind," he says.
Food and safety
"Thank God that when we reached the frontier we were able to find some safety. I feel safe here and I've received my first food distribution – a larger one is coming soon as well.
"One of the problems is that after the attacks the attackers stole everything, especially all our food – our millet, our groundnuts. They took everything and threw it in their cars and drove back to Bangui.
"If peace returns to Central Africa then I will go back, but the fact is that there is still widespread insecurity there," says Gaston.