Faces of hunger in southeastern Mauritania
17 November 2005
For several weeks in the middle of 2005, the world's attention was, unusually, focused on Niger; a marginalised, poverty-stricken West African nation struggling to cope with a food crisis that left many of its poorest rural families unable to provide for themselves.
Story of hunger in the Sahel continues
For several weeks in the middle of 2005, the world's attention was, unusually, focused on Niger; a marginalised, poverty-stricken West African nation struggling to cope with a food crisis that left many of its poorest rural families unable to provide for themselves.
For a sharply crystallised moment, Niger was the face of hunger.
Hunger in the Sahel
Away from the cameras and hordes of journalists that briefly descended on the country from the four corners of the world, the story of hunger in West Africa's Sahel region continues – silent, chronic, debilitating and largely untold.
Like Niger, Mauritania suffered from the combined scourge of drought and cataclysmic locust invasions in 2004.
Unlike Niger, WFP's operation in Mauritania was satisfactorily funded. Distributions by WFP and decent rains across much of the country improved conditions for many this year.
Serious problems
But in the far southeast of the country, in the region of Hodh El Chargi in particular, serious problems remain – and WFP is urgently stepping up its relief operation to ensure they are addressed.
WFP spokesperson Marcus Prior recently travelled to southeastern Mauritania and heard just how difficult life has become for many of the people who live there - and what a difference a simple dyke project can make.
Mohammed Lemine ould Abeid – village chief, Jedida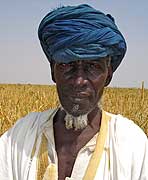 Mohammed Lemine ould Abeid, village chief, Jedida
Field after field is scorched dry; what should be ripe heads of sorghum fall apart at the touch and flutter as blistered chaff on the breeze.
Jedida, south of Adel Bagro on the border with Mali in Hodh el Charghi, has not been blessed by the rains that brought relief to many other parts of the country. Here, people speak of drought, and with fear for the months ahead.
Very difficult year
"We are farmers and this has been a very difficult year for us," says village chief Mohammed Lemine ould Abeid.
"We have had practically no rain. You can see it in all the fields you pass through in this region. People have abandoned most of their crops – just given up because they are beyond saving.
"There is no doubt that this year our food situation has got worse. For four months we have been working our fields, but what is most disheartening is that for almost all those four months we've known we are not going to harvest much – if anything at all."
Dripping with despair
Abeid walks through the fields, grinding sun-blitzed sorghum through his fingers, his voice dripping with despair.
He says some villagers have already begun to skip meals in a bid to eke out their supplies. Many have been seeking work in distant villages and towns, looking to earn cash they can spend on food.
Malnourished children
While the adults appear healthy, several obviously malnourished young children come forward, stomachs distended.
"We know that they are suffering from malnutrition, even if we don't know exactly what malnutrition is. Many of the children are in a very weakened state," says Abeid.
"We adults can survive with the food we have, but we know that our children need more than this to grow strong and well. We are worried about how things will turn out for them."
El Hashniya mint Saed and her son Mahmoud ould Mamadou - Bou Cteilla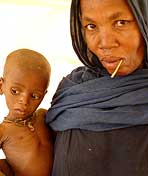 El Hashniya mint Saed and her son Mahmoud ould Mamadou
Mahmoud clings to his mother with every ounce of strength left in him. Sallow and emaciated, he cowers from the unfamiliar surroundings of the clinic.
His mother, El Hashniya, has carried him seven kilometres from their village to a mobile facility opened twice a week by Médecins sans Frontières in the market town of Bou Cteilla, near Hodh el Charghi's border with Mali.
"Just not getting better"
"I noticed my son was ill and I had heard about this clinic so I brought him here," his mother says. "I really don't know what the problem is with him – that's why I brought him here for a diagnosis. He is just not getting better."
Mahmoud looks extremely unwell. The local nurse, Hakeem, takes El Hashniya to one side and a moment later comes across to confirm that the child is malnourished.
He says this may be due to the fact that he has been abruptly weaned off his mother's breast milk and is being fed food his tiny frame is struggling to accept.
Poor prospects
El Hashniya herself is struggling to get by as year by year, life has got harder and harder.
"We ourselves are not able to eat three meals a day. This year is very difficult compared with previous years," she says.
"We sowed our fields as usual but even though the crop is maturing now, the prospects are not good – we should be harvesting by the end of the month but it won't be good."
Nema ould Youba – farmer, Njamet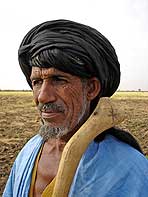 Nema ould Youba, farmer, Njamet
The village of Njamet, 10km south of Amurge in Hodh el Charghi. looks barely habitable, clasped as it is between rocky outcrops in a sparse landscape.
"The last few years have been very, very difficult for us," says Nema ould Youba between gentle movements of his ancient hoe to tend the early shoots of his sorghum crop.
My colleagues are surprised by Youba, as they have never seen White Moors working fields; normally they run businesses or rear livestock. "It shows how poor they are," says one.
Not just drought and locusts
And it's not just drought and locusts the villagers have to contend with.
Dwindling cash remittances from family members working across West Africa mean that a good harvest is more important than ever. But after successive tough years, making ends meet is becoming a grim battle against debt and the elements.
"Before, many people from this village travelled in the region and sent substantial amounts of money back here from the work they found in other places," says Youba.
Debts to pay
"But with the problems in Cote d'Ivoire and other countries, people have either come back here or are not sending money any more.
"If we are lucky, these crops will last us three or four months. Many of us have debts we have to pay, so we'll have to sell some of the crops to pay those off."
What happens once the stocks run out, not even Youba can say.
Boukhreiss ould Boukheir – village chief, Tejan Hajra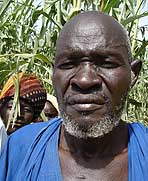 Boukhreiss ould Boukheir, village chief, Tejan Hajra
Travelling west, back towards the capital Nouakchott, the landscape slowly changes – and with it the prospects for the year ahead.
Here, in the neighbouring region of Hodh el Gharbi, the rains have fallen. Fields stand heavy with their ripening harvests. As people walk by, you can almost see the spring in their step.
Food-for-work project
Tejan Hajra, south of Aioun, has been particularly blessed. Earlier this year, the village was selected as a site for a WFP food-for-work project to rebuild a dyke that would retain rainwater and improve soil fertility.
A few months later and the result is five square kilometres of sorghum growing green, tall and strong. The dyke has been the difference between another season of struggle and a new year of hope.
"Thanks to God and thanks to you for the support that we received this year," says village chief, Boukhreiss ould Boukheir.
Starting from scratch
"The advice, supervision and food that was made available during the construction of the dyke was extremely important – the food in particular because it gave us the strength to do the hard work of building the dyke at a very difficult time.
"With this harvest we'll be able to pay off all our debts and start again from scratch. It's all thanks to this dyke. It has made all the difference.
"Every member of the village - man, woman and child, without exception – played a part in getting the fields to look like this.
Dancing and celebrating
"The effect of this wonderful crop on our village has been amazing. People have been dancing, jumping up and down and celebrating.
If we had not had this crop this year, it's quite possible that the village would not be here – we would all have packed up and headed to Mali to look for work and the means to keep feeding our families," said Boukheir.