With eastern and northern Kenya reeling from the failure of the short rainy season, WFP and its humanitarian partners are this week sending an emergency assessment team to the worst-hit pastoral and agricultural districts to determine how many people require food aid.
The agency is currently feeding 1.2 million drought victims but fears this figure could more than double to 2.5 million after the assessment team reports back to the Kenya Food Security Meeting (KFSM) -- a group which comprises UN agencies, non-governmental organisations (NGOs), donors and government officials.
Emergency action
WFP warned last month that the lack of rainfall in northern and eastern Kenya would lead to a serious hunger crisis over the first half of 2006

The final report , which will cover some 27 drought-affected districts, is expected in February.
But the KFSM wants to respond sooner, immediately after its experts return from their initial destination: the worst-hit districts of the north
Mandera, Wajir, Garissa, Tana River, Isiol, Marsabit and Moyale districts, all on the frontline of the drought, are showing the tell-tale signs of a major food crisis in the making.
Humanitarian agencies are particularly concerned about reports of camels and donkeys already dying in large numbers due to the lack of pasture and water.
Food aid convoys
WFP has already dispatched food aid convoys to northern Kenya to replenish its school feeding programme in the region ahead of the new school term which starts on January 9.
The agency has added an extra 200,000 children to its school feeding programme in the drought-affected areas, pushing the total number of Kenyan children receiving free school meals up to 1.3 million.
Serious hunger crisis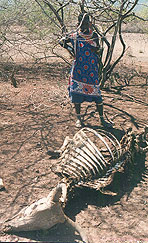 WFP warned the international community last month that Kenya should prepare for an humanitarian crisis in the first half of 2006.
The KFSM also raised the alarm, stating that food aid would be needed at least until July 2006 as marginal farmers in the east struggled to cope with a second successive poor rainy season in a single year.
In an alert to donors, the KFSM said that other assistance was urgently needed to tackle the burgeoning water and health crisis as well as programmes to buy up livestock to stop herders from selling their assets at low prices.
Funding shortfall
WFP's US$128 million Emergency Operation, originally launched in July 2004 after poor rains in eastern, southern and parts of northern Kenya, has already been extended until the end of February 2006.
A forthcoming revision will increase the total appeal by US$140 million to cover needs from March to August 2006
However, even before the expected rise in the number of people being targeted, the operation faces a US$46 million shortfall -- see sidebox for donors to date.