Eight ways to change individual lives
13 September 2005
Putting faces to the United Nations' eight Millennium Development Goals
At the 2005 World Summit on 14-16 September, more than 170 heads of state will meet at UN headquarters in New York to discuss what the world needs to do to achieve the eight Millennium Development Goals (MDGs) by 2015.
Drawn up in 2000, the MDGs are global targets for addressing extreme poverty in all its forms - including hunger, disease, lack of adequate shelter and exclusion - while promoting gender equality, education and environmental sustainability.
When you take hunger out of poverty, poverty is halved

Chief O.Obasanjo, President of Nigeria
These targets are ambitious, but they are achievable; particularly if we focus on individuals and their needs, rather than the faceless numbers which often represent the hungry poor around the world.
We are still a long way from reaching the first objective of the MDGs: halving the proportion of the world's population that suffers from hunger by 2015. But addressing hunger is key to meeting at least five MDGs, and below you can find out how WFP is using food aid to make a dramatic difference to individual lives.
Goal 1: to eradicate extreme poverty and hunger
An emergency operation in Sudan is feeding returnees to the south who are starting their lives again with nothing.
Atak Kuot Tong doesn't know how old she is, but she does know that she is back home in south Sudan for the first time in 13 years.
She has been counting the years since she was abducted from her home and family in the southern town of Akwem by a trader. The 300-kilometre journey from Mujuled, where Atak was held, took two days and cost all that she and her family have.
Although stoic about her suffering in the north, Atak has great expectations of her newly peaceful homeland.
"I want to be able to till my land, and know that the sweat of my brow will feed my children. I was told that if we came back we would get food, tools and seeds to make sure we can work our fields," she says.
But the fields are bare. The rains were poor last year, destroying most of the sorghum crops in many parts of south Sudan.
And paradoxically, food shortages are being compounded by a peace agreement signed in January by the government and the Sudan People's Liberation Movement, which has seen returnees streaming back to kin in the south who also have very little.
Atak is one of 3.2 million people in Sudan who will receive food aid from WFP this year under an emergency operation launched in January.
Click on the links to learn more about WFP's use of food aid to help eradicate extreme poverty and hunger:
Goal 2: to give all children a primary school education
WFP food aid is encouraging school children in tsunami-ravaged Banda Aceh, Indonesia, to go back to school.

Diana Novita Sari's dark eyes widen as she begins to count, using her fingers to mark the names. She stops on reaching an even dozen.
"Only 12 survived," the 11-year-old murmurs. "All the rest are gone."
Diana's school, Primary School Number 109, situated close to the passenger ferry dock in Banda Aceh, was closed on the fateful day the tsunami struck. But most of its 140 students, aged six to 12, lived locally and were swept away by the waves.
Six months later, many destroyed and damaged schools in the area have been rebuilt or rehabilitated, allowing displaced students like Diana to return.
To help keep them in the classroom, WFP launched a school feeding programme last April. The agency provides a mid-morning snack – biscuits fortified with 13 essential vitamins and minerals - to some 156,000 primary school children in more than 700 schools in in Aceh and North Sumatra.
In 2006, WFP hopes to extend the programme to some 700,000 children across Indonesia.
The snack not only helps kids forget empty bellies, but also concentrate on their studies. However, Diana likes the biscuits for different reasons.
"They keep me healthy," she says, "I haven't been sick since they started handing out the cookies at school."
Click on the links to learn more about WFP's use of food aid to achieve universal primary education:
Goal 3: to promote gender equality and empower women
Kenyan women are given food in return for building an irrigation system which frees them from their reliance on the rains.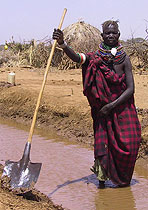 Melenea Ayokon lives in Turkwell, Turkana in the north of Kenya, and knows what it is to go hungry.
Like many women in Africa, she grows and harvests the crops on which her family depends, and faced an incessant battle against recurring drought in the region.
Even when the rains were good, there was often not enough water to irrigate her small plot, and when the harvest was poor the family was left destitute, unable to store adequate food supplies from one season to the next.
When nothing else was available, Melenea and her children would trek long distances into the forest in search of wild fruit, or beg for food from relatives in the larger towns.
But when WFP started a Food-for-Work project in the area, Melenea's life changed dramatically for the better. In return for her work to help build an irrigation system, she received food rations sufficient to feed her entire family.
And now she can enjoy the benefits of the system she helped to build, confidently preparing her land knowing that poor rains will no longer ruin her harvest and jeopardise her children's health.
Click on the links to learn more about WFP's use of food aid to empower women:
Goal 4: to reduce the mortality rate among children under five
A therapeutic feeding centre in Sudan provides life-saving food and medicine for children desperately in need of help.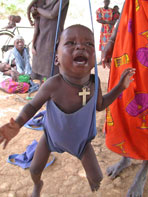 When Abul Malong Deng's 18-month-old daughter Ayuen became ill, Abul had no idea where to turn. Her village in Northern Bahr El Ghazal, South Sudan, is at least a day's walk from the nearest hospital.
Luckily some fellow villagers suggested she take the little girl to a therapeutic feeding centre for severely malnourished children in Mabil, run by a British non-governmental organisation and supported by WFP.
For Abul, getting to Mabil was a seven-hour marathon. She left before dawn one day, carrying her daughter strapped to her back. Ayuen had been refusing food for several days, was running a high fever, coughing uncontrollably and had diarrhoea.
At the centre, Ayuen was weighed and measured. She tested positive for malaria and was given some medication, and they went home with a week's supply of corn-soya blend and Plumpy-Nut, a fortified foodstuff rich in vital minerals.
The malaria disappeared almost immediately and Ayuen's appetite returned; she gained over a kilogram in little more than two weeks and was soon discharged from the therapeutic programme.
Abul is still concerned that illness might strike again, but is much happier now she knows where she can get help if it does.
Click on the links to learn more about WFP's use of food aid to reduce child mortality:
Goal 5: to improve maternal health
Afghan women at high risk of death in childbirth receive food for attending classes in literacy and basic health skills.

Karmagal, 25, has five children and spends her days milking cows and baking bread. She lives in Dehkalan, a remote village which clings to the side of a steep hill in Badakshan province, northeast Afghanistan.
She is one of around 20 women aged between 15 and 35 who are attending classes in literacy, basic health and nutrition skills.
Like many poor women in Afghanistan, the students are illiterate, diseased and married at a young age with many children, their lives limited by patriarchal practices embedded within their culture.
But the women of Badakshan province are also more likely to die in childbirth than women anywhere else in the world, most often as a result of obstructed labour, which is attributed to a raft of factors including growth stunting, poor literacy and having babies at too young an age.
WFP supports classes such as those in Dehkalan because of the positive effect education has in terms of leading women to have children later and to have fewer of them.
To encourage attendance at the classes, WFP gives students a monthly ration of wheat, oil and pulses. Without these incentives, the majority of these housebound women would not be permitted by their husbands, fathers or brothers to attend.
Click on the links to learn more about WFP's use of food aid to improve maternal health:
Goal 6: to combat HIV/AIDS and other diseases
A community-based care programme in Cambodia supported by WFP food aid is giving AIDS sufferers a new lease of life.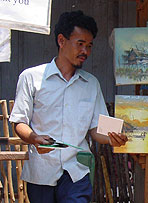 It is hard to believe that just a year ago, Keut Chreul was almost dead.
A 35-year-old beggar in the streets of Siem Reap town, Cambodia, he was often found lying on the sidewalk, exhausted by the ravages of AIDS and a lack of food. Maimed by a landmine, Chreul was living on handouts.
Today, thanks to a combination of anti-retroviral drugs, a small loan and WFP food aid, Chreul is living the most stable and prosperous life he has ever known.
His family is one of 78 who are enrolled in a "community-based care" programme run by WFP and the international non-governmental organisation Caritas.
In June 2003, Chreul bought a bookstall with financial support from Caritas. Two years later, tourists visiting the Siem Reap quarter frequently stop to browse through Chreul's books about the infamous Pol Pot era or the 12th-century Khmer empire.
Chreul has gained weight thanks to WFP's monthly rations of rice, salt and cooking oil. His family can eat three times a day.
Chreul has also gained the confidence that he will see his children grow up. For poor Cambodians living with HIV and AIDS, that is nothing short of a miracle.
Click on the links to learn more about WFP's use of food aid to combat HIV/AIDS and other diseases:
Goal 7: to ensure environmental sustainability
In drought-plagued Ethiopia, where an estimated two billion tons of soil are washed away every year, Ketchema in Adama District represents an oasis of hope.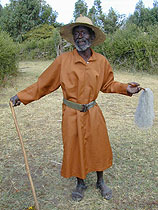 A decade ago the ravine, which cuts through the village of Ketchema in Adama District, was a dustbowl.
With no forest cover to protect the land from wind and drought, erosion was sweeping away top soil, with disastrous consequences for the small plots of land owned by local farmers like Yifru Kogna.
But, unlike so many Ethiopian farmers, who can only watch as their drought-stricken farmland disappears at an average rate of 50 tons per hectare each year, Yifru was able to fight back.
First, Yifru built rows of small dams to stabilise the ravine; then, square metre by square metre, he slowly reclaimed his land by planting trees and shrubs from nurseries supported by WFP.
Slowly but surely, Yifru's neighbours followed in his footsteps, and within two years, 146 farmers were participating in the gully reclamation project.
Today, Ketchema is covered in a forest containing 300,000 different trees and shrubs, has two kilometres of gullies productive, two large water ponds and several other conservation measures.
It is estimated that the local community is benefiting from an additional income of over US$50 to US$100 per household per year.
On July 13, 2003, Yifru Kogna died in his home village at the age of 88, but he remains an icon of grassroots sustainable development for WFP and Ethiopia.
Click on the links to learn more about WFP's use of food aid to ensure environmental sustainability:
Goal 8: to develop a global partnership
Global express, logistics and mail company TNT supports WFP in several ways, including airlift services in emergencies, specialist support programmes, volunteers and cash donations.
"Our dreams wouldn't have come true if we didn't get food from WFP," says Safiya Abdalla, a 7-year old pupil in El Farshaya Primary Girls Boarding School in Sudan.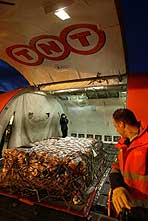 Living too far from school, Safiya's poor family could not afford her meals at a boarding school. Moreover, her help with the housework and farming was too important for the family to let her go.
The daily meals provided by WFP at school were a decisive factor. Knowing that she would be fed for free persuaded her parents to let her go to school and have a chance to be educated.
The School Feeding Programme – which supports thousands of children like Safyia in Sudan and elsewhere – is backed by TNT, the global express, logistics and mail company.
As part of its partnership with WFP, TNT has committed itself to sharing its highly qualified staff, skills and resources in transportation and logistics to help fight hunger.
An excellent example of the way private corporations can cooperate with United Nations agencies to do vital, life saving work

UN Secretary General Kofi Annan
On 20 June 2004, 40,000 TNT and WFP employees took part in the 'Walk the World' event, an annual fund-raising initiative which generated enough funds to help feed 180,000 school children for four months in Sudan.
This year, TNT has also provided financial and logistic support to WFP's emergency response to both the tsunami tragedy and the hunger crisis in Niger.
TNT's contribution to WFP is, in the words of United Nations Secretary General, Kofi Annan, "an excellent example of the way private corporations can cooperate with United Nations agencies to do vital, life saving work."
Click on the links to learn more about WFP's private sector partners: