Mangoes and cantaloupes are springing up in the hills along the river Nile in a WFP and USAID project to help poor Egyptian farmers prosper. WFP spokesperson Khaled Mansour went to see the flourishing crops in the previously arid area.
Six years ago, Abdul Latif left his carpenter's shop and a small plot of land in Egypt's southern Aswan province, to move into the desert hills bordering the Nile.
I earned more money as a carpenter but now I am a real landowner and I have something to leave to my children


Abdul Latif
He was given six acres of barren land in Wadi Al-Sa'ida, a newly reclaimed area in Edfu District, under an ambitious government project to help landless and poor farmers. Today, the area is lush with corn, vegetables and other crops.
"I earned more money as a carpenter but now I am a real landowner and I have something to leave to my children," says Abdul, 45 and a father of six.
WFP helps
Abdul has invested any spare cash in his farm. He says WFP food assistance was vital in allowing him to do this: "The flour, the oil and the lentils I got every three months enabled me to throw every extra bit of money I had into the land. When I became more confident, I sold off my carpenter's shop and plowed that money into the land."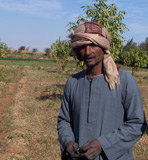 Abdul Latif on his land
WFP has helped some 1,500 families who have settled in the area and now Wadi Al-Sa'ida houses four newly constructed villages which are equipped with basic irrigation systems, schools and basic medical services.
Nadine El-Hakim, WFP's Programme Officer for the region, says each family received a home, six acres and the equivalent of US$105 start-up cash from the government.
"Considering that those farmers spend more than half of their income on food, WFP distributed a quarterly food basket consisting of 200 kilogrammes of wheat flour, 20kg of lentils, 14kg of vegetable oil and 12kg of sugar to each household."
Training and innovation
WFP has also provided training in innovative agriculture and irrigation techniques, livestock nutrition and veterinary health. Micro-loans were given to finance livestock purchase and small projects.
The WFP-assisted project also built necessary infrastructure, including a refrigerated packing house, a nursery/demonstration farm, and a small livestock bank, all of which enabled farmers to progress faster than their neighbours.
Awash with irrigation problems
However, water is causing a headache for the people of Wadi Al-Sa'ida. The efficient but expensive to maintain drip and sprinkler irrigation system did not work out for them, so they use the traditional method which consumes more.
Water is made even scarcer by illegal squatters who have seized up to 15,000 acres of land and planted it with the water-guzzling sugar cane.
"It is too late to kick out the squatters, so we need to legalise their stay but ban sugar cane in this area," said one official. "The government has earmarked a few million dollars to provide more water from the Nile to this area and for the sugar cane plantations. We also need a better drainage system to overcome the increasingly threatening water-logging," he says.
Sugar not so sweet
The same farmers experiencing irrigation problems also find that water seeps into their houses from the flooded sugar cane plantations as overflow is not properly drained.
For a long time we had only two institutions to help us: the mosque and the church

Hopefully, the new irrigation and drainage systems will be constructed soon, says one angry peasant.
Irrigation woes aside, these new farming communities have proved very resilient. Their cooperative associations have done wonders: "For a long time we had only two institutions to help us: the mosque and the church, but now our Cooperative is a third place to go for help," says one farmer.
"We do not want more government help. The initial push and the right regulations from the government are enough, otherwise we work with the market," he added.
Groundbreaking crops
Now farmers in the Wadi are harvesting some of the most innovative crops in Aswan such as sesame, mango, cantaloupes, citrus, tomatoes, wheat, and vegetables.
And indeed, most of them have become self-reliant. The last food aid handout was delivered to Al-Shahama village in Wadi Al-Sa'aida in September 2006. Most of the farmers are now glued to their land and proud of their harvest and their new houses and cattle.
WFP collaborated with the USAID agricultural project (Agricultural Exports and Rural Incomes Project – AERI) to set up an association to upgrade the skills of Wadi Al Sa'ida farmers, and improve their links with private exporters, suppliers and food processors.
People like Abdul Latif, have found that their risk-taking has paid off not only for themselves, but also for future generations in the once-barren desert hills of Upper Egypt.