Economic Crisis Forces Families To Choose Food Or School
24 March 2009
Orbelina, a single mother in El Salvador, recently took her daughter out of school because she needed help earning enough money to put food on the table for the family. It's a common story among the poor in Central America.
by Tania Moreno
SAN SALVADOR – Orbelina, 33, lives with her eight children in the town of Yamabal in northeastern El Salvador and faces a daily struggle to provide them with food. Forced to cope first with the global food crisis and then the economic crisis, Orbelina says that the past two years have been the worst of her life.
"We have had to go out to beg for food, mainly for the youngest children. It's so hard watching my children cry from hunger and not having anything to give them," she said.
Orbelina's youngest child is one year old and the eldest is 17. Because of the difficult economic situation her family is facing, the eldest one, a girl named Ana, recently had to stop attending school.
"Have to help my mother"
Two weeks ago she managed to find work selling candy at school where she hopes to make US$40 per month. Underneath a large multi-coloured umbrella to protect her from the sun, Ana prepares her basket of candy near the entrance of the school.
"I am not sure if I am going to continue studying," she says, "For now I know I have to help my mother and my brothers and that makes me happy."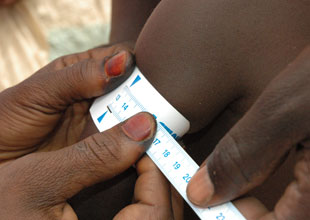 Orbelina's family, like the 150 other families in Cantón Los Cimientos, in the municipality of Yamabal, in the department of Morazán (north-east of El Salvador), is under intense pressure because of the economic crisis.
Cultivating bananas
Orbelina and her 13-year-old son Samuel work a plot of land, cultivating bananas. Despite this, for the last five months they have not been able to pay the rental fees for the land or purchase the tools necessary for the harvest.
The US$5 or US$7 that they make each month -- "when the sales and crops are good" -- help complete the family's monthly income which rarely exceeds S$10.
Orbelina's three youngest children attend school and receive food from WFP and its partner World Vision. This is an immense help considering their current situation.
Importance of nutrition
Orbelina is well aware of the importance of good nutrition for children. She lost two babies before they were born due to malnutrition and inadequate health care.
"Before there was enough bread and a little bit of coffee but now it is difficult to get some salt and flat bread," she says. "Not having food for my children keeps me awake at night and has me very worried."
Estimates by WFP in El Salvador indicate that 87% of poor households have reduced the quantity and quality of food consumed as a result of the recent increases in food prices.
Read more on How the food and economic crises are hitting Central America