Introduction
Part of a recent US$1 million donation from WFP Ambassador Against Hunger Drew Barrymore will go towards improving schools and the lives of schoolchildren in Kenya. WFP's Marcus Prior talked to some of the children at Nairobi's Stara school, one of the places where WFP provides daily school meals and which will benefit from Drew's donation.
Clyde Otieno Odour, 14
Fourteen-year-old Clyde Otieno Odour strides confidently forward. He is the first student I am to interview today – he's made absolutely sure of that.
His self-assuredness is even more striking when you understand that his parents died several years ago and he lost his sister recently – shot during the post-election violence which has scorched its way across Kenya.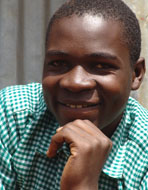 "There are some people who are just good at causing chaos," he says, perfectly summarising the looting, mayhem and killing that unfolded before his eyes. He himself was forced to leave his home when the violence began to overwhelm Kibera.
Stara school has quite literally rescued him, as he explained to me.
"I have nowhere to find food," Clyde says. "We were struggling with my aunt to get even small meals. The food here is sweet and has a lot of proteins. Since I came here I think I have changed. The food helps me at lunchtime. Even when I go back home I am not hungry. The food helps me to get stronger," he says.
Clyde says that when he finishes his studies he wants to be a pilot – Kibera is on the flight path to Nairobi's second airport and planes regularly fly low over the shacks.
"When I finish school I hope to have a good job and not involve myself in causing chaos," he says.

Stara school
Stara School is one of more than 70 in Nairobi's slums where students receive a snack and a hot meal at school every day through WFP.
The school, which was founded by Josephine Mumo as a rescue centre for children orphaned by the ravages of HIV/Aids, now has 530 students.
Of these, 70 percent have lost two parents, 15 percent have one parent, 10 per cent are neglected and abused, and 5 percent are poor and needy.
Alice Nzilani, 13
Alice Nzilani's life has been unsettled over the past few weeks. When the post-election violence broke out, she was still in her parental village outside Nairobi. When she and her family decided it was safe enough to return home, she was in for an upsetting surprise.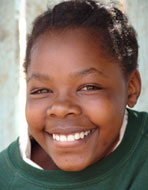 "We were up country and we were listening to the radio to hear what is going on," she says.
"When we came back, we found that our house has been taken by other people – and all our things. So we are just in my aunt's house. We can't move back in – it has been taken. It is too difficult. I can sleep at night but it feels like it's not too safe," she says.
Stara school has been an island of stability in the chaos for Alice, who is 13. The teachers are like surrogate parents, and the three meals a day she receives there plug a gap that otherwise she would struggle to fill.
"It (the food) helps us to be strong and healthy, and just to concentrate in class because our stomachs are full. You would be feeling hungry if you did not come to school," she says.
And with a sparkle in her eye Alice says one day she wants to be a bank manager. Your money would be safe with her….
Paul Omondi, 15
When 15 year-old Paul Omondi gets up in the morning the first thing he thinks about is getting to school…for breakfast.
"When I come to the school in the morning, I haven't usually had breakfast," he says. "But if I come here to Stara I will get something like porridge and I will drink and I will be strong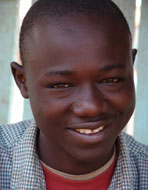 and put more effort in my studies." Those studies have a grand ambition – Paul wants to be a doctor.
"I want to help people who are sick who don't have money to help them. If I could be a doctor I would help themselves. I will open my clinic to help them when they have nothing. If you go somewhere now, people want money first before they treat you. If you don't have money they put you in a bed and leave you there."
Paul was forced to leave his home recently as the post-election violence boiled over in Kibera – he headed to a nearby agricultural showground for safety but even there it was difficult to find food and shelter.
All the time he was there, he and his family worried about what was happening at home.
"If you leave your house, someone can come and take everything in it. For us, we have a neighbour who took care of our house. When the fights were over we came back and when the school was open, we knew if we come here we would get some food because they usually help the needy," says Paul.
Caroline Okasire, 13
Caroline Okasire has clearly witnessed things a 13-year-old should never have seen. She meets every question about recent violent events in Kibera with a one-word answer – yes. Even when it makes no sense at all.
It really does make sense when she is asked if it has been a really difficult time. Yes, she says, and stares into the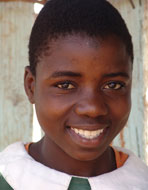 distance.
Her reticence is all the more striking because on other matters she is eloquent and confident – such as her love of the food at Stara, and her future hopes and dreams.
"It (the food) is good because it fills me up," she says. "It helps me because at home sometimes we don't have food to eat. Sometimes we sleep with empty bellies because we don't have anything to eat. Sometimes I come to school without anything to eat in the morning.
"The learning is going well for me and when I grow up I want to be a doctor – because I look at my talents and I think it is what I would be best at."