Double trouble for a hungry family in South Sudan
01 September 2005
WFP Public Information Officer Simon Crittle finds thousands of families who were displaced by Sudan's devastating civil war have returned home to a rain-starved region where malnutrition is on the rise.
WFP Public Information Officer Simon Crittle finds thousands of families who were displaced by Sudan's devastating civil war have returned home to a rain-starved region where malnutrition is on the rise.
Twin baby girls Abuk and Ahok live with their family in a tiny mud hut in South Sudan. The entrance is low to protect them from wild animals, and a small fire chokes the room with smoke to keep mosquitoes away.
The one-year-old girls are part of the proud Dinka tribe who occupy the country's vast grasslands.
Ceremonial slaughter

Blackened goats' skulls
The Dinka believe the birth of twins is a great blessing. Villagers celebrated the arrival of Abuk and Ahok with singing and dancing, and by the ceremonial slaughter of two goats.
The smoke-blackened skulls of the goats now hang from the underside of the hut's grass roof, and serve as a reminder of their family's good fortune.
Malnutrition
But, tragically, the beliefs of the Dinka might not be enough to see the girls through to adulthood.
Abuk and Ahok's parents simply don't have enough for them to eat, and the twins are both suffering from malnutrition.
"If we have food to give them, they just play," says the twins' mother Abak Bak, 30. "But if they are hungry they cry all night."
Poverty-stricken region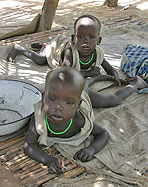 One-year-old twins Abuk and Ahok
The family live in a poverty-stricken region of Sudan called Northern Bahr El Ghazal, where agricultural production is poor and infant mortality is 150 to 170 out of every 1,000 live births – one of the highest rates in the world.
In 1998 a famine in the region left 70,000 dead, and local officials, as well as the UN, say Northern Bahr El Ghazal is now gripped by one of the most critical food shortages since that time.
Brink of disaster
The combination of a bad harvest and a flood of formerly displaced people returning after the end of Sudan's 21-year civil war have pushed the local population to the brink of disaster.
Abuk and Ahok are among a rapidly increasing number of children in Northern Bahr El Ghazal who are malnourished.
Alarming increase
WFP supplies food to 26 supplementary feeding centres run by non-governmental organisations in the region. These centres have recorded an alarming increase in admissions since the programmes started in March.
In July, more than 6,500 children were being given food at the centres, and 1,000 of them were considered severely malnourished.
Severely malnourished
At a feeding centre in the town of Malualkon in the heart of Northern Bahr El Ghazal, hundreds of women queue for hours to have their babies weighed and measured to see if they are healthy for their age.
The number of severely malnourished children brought to the centre climbed by 600 percent during the four months from March to July.
"Numbers are going up"
"We expected that the programme would have slowed down by now," says Loice Awino, a nutritional nurse with the aid organisation Tearfund, which staffs the centre.
"But the numbers are going up. We are still admitting many children for the first time."
Arms like twigs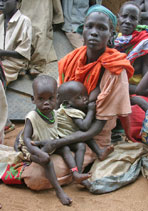 The twins with their mother, Abak
When Abak brought the twins to the Malualkon feeding centre in March, their cheeks were hollow and their arms were like twigs.
After the girls were examined, Abak was given 20 small packages of "Plumpy Nut," a highly nutritional paste made from peanuts supplied by UNICEF, and four scoops of corn-soya blend meal supplied by WFP. They were told to come back every two weeks.
Since then the twins have gained weight, but they remain in the feeding programme.
Shortages predicted
After completing an assessment of agricultural production in October last year, WFP predicted Northern Bahr El Ghazal would suffer shortages in 2005, and earmarked 68,000 metric tons of emergency food aid for the general population in the region.
However, the operation has been hampered by the late arrival of donor funds. In May, only 26 percent of the money needed had been secured.
Decline of food stocks
WFP South Sudan Coordinator Arnt Breivik said the agency had increased the number of people it would help and the size of their rations after field reports indicated a further decline of food stocks across the region since the beginning of the year.
"The number of people reporting to food distribution centres increased tremendously between April and June, and between 10 and 40 percent of WFP's food is now being given to people who have returned from refugee camps," says Breivik.
Attacks by militia
Abuk and Ahok's parents were among those who fled during the civil war and returned after peace was declared.
Their village endured wave after wave of attack from militia during the civil war. The twins' father Kuol Kur, 54, said one of his brothers was killed when horsemen raided his home in 1988.
"They took everything"
"They raped women and even children. They took the cows, the goats, everything."
He said government-allied militia, known as the Murahaleen, abducted girls from the village to be wives and took boys to tend cattle. With the family's livestock taken and its property destroyed, Kuol and his wife joined hundreds of thousands of southerners who went north looking for work.
Returning home
In 2004, when Abak was pregnant with the twins, she and Kuol decided to return home with their two older children. They have been joined by more than 100,000 returnees who are estimated to have resettled in the region this year.
Adding to the strain on resources, thousands of displaced people fleeing the conflict raging in Darfur, just to the north, have also recently arrived.
Houses destroyed
But when families like Abuk and Ahok's returned to their home, it was not as they remembered.
The houses have been destroyed and the farmland is parched by drought. Schools lack everything from textbooks to windows, and one small hospital serves the entire region. Market stalls stand empty and there are no roads connecting villages, making trade almost impossible.
Strain on community
The returnees have put a strain on local communities. The twin's parents turned to their extended family for assistance when they arrived back, as under Dinka law a person's relatives are obliged to help when food from the previous harvest runs out.
Kuol's half-brother gave him a cow to sell so he could buy grain, but Kuol and Abak are still struggling to provide for the twins.
The leaves of the tall green stalks of the sorghum crop around their hut are turning yellow and the family fears the harvest could fail again because the rains this year have been patchy.
Discarded skulls

The twins have gained weight but still need help
"It's hard to give my children what they need," says Abak, "but if they grow up strong I know they will be beautiful."
If the twins don't survive, as is too often the case with infants in South Sudan, the goat skulls hanging inside the hut will no longer be symbols of joy. Another ceremony will be held and the skulls will be discarded.