DARFUR FACES WORSENING HUNGER
14 March 2005
Laura Melo, a WFP public information officer based in Kenya, sent this e-card after visiting camps for displaced people in the war-torn Darfur region of Sudan. This article first appeared on the BBC News web site.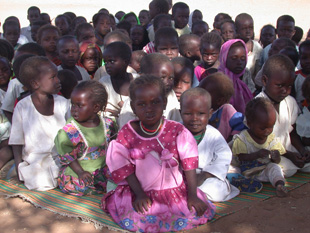 Darfur, March 2005 - "We are children, when we grow up we will build our country and will make it strong," sing a group of youngsters.
It is an ambitious plan when their starting point is a camp for people displaced by the conflict in Darfur.
Gathered under the shade of a tree in a makeshift nursery in Zamzam camp in North Darfur, they sing the songs Sudanese schoolchildren have always sung.
But this might be the only element of normality in their existence. Their lives have been shattered by violence that is incomprehensible to them.
FLEEING THE CONFLICT
More than two million people in Darfur have fled their homes - most to neighbouring areas, some across the border to Chad and elsewhere - to escape a conflict that is often simplified as a fight between Arab and African groups.
It is also a conflict over the control of scarce resources such as water and fertile land.
Homeless and destitute, the displaced and refugee families rely almost entirely on food aid to survive.
So do hundreds of thousands of other people who live in Darfur but whose lives are in disarray.
INCREASING NEED FOR FOOD AID
At the beginning of the year, WFP estimated a progressive increase in the number of those in need of food assistance to a peak of 2.8 million people during the July-September rainy season.
Now, some anticipate that this figure could be much higher.
Last April's ceasefire is violated on a regular basis, and thousands of people continue to be forced out of their homes - often at a rate that humanitarian agencies find difficult to keep up with.
FLEEING ATTACKS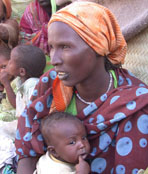 Asha Khatir and her four children had just arrived when I met them in Kalma camp, near the South Darfur capital, Nyala.
They had fled Marla, 53km south-east of Nyala, following a series of attacks - the last against women and children getting water from a well.
Asha's story is tragically familiar in the camps scattered across Darfur. "Our village was attacked and all the houses burned," she says.
"I saw six bodies, but we didn't have time to see who they were or whether there were more people killed. My uncle was also killed."
Holding her eight-month-old baby, Asha assures me that she feels safe in Kalma camp. She laments, however, the loss of the harvest: "All our food was looted."
STRAIN ON THE LAND
Fighting has reduced food production in Darfur to a minimum, most economic activities have ceased and the strain on the land available is increasing.
Traditional nomadic movements are disrupted, leaving herds to overgraze in areas without sufficient water, resulting in drought-like conditions.
Insecurity has prevented both the traditional export of camels to neighbouring markets and cattle sales within Darfur, dramatically decreasing the pastoralists' purchasing power.
Moreover, most farmers don't have access to their land.
GRIM PROSPECT
Darfur is facing the grim prospect of worsening hunger.
With the continued displacement and prevailing economic hardship, more and more people are likely to find themselves with nothing to feed their children.
The price of millet, the preferred staple food, has increased by 50 percent since January 2004 (from $20 to $30 for 100kg), while most families are poorer now than they were a year ago.
ARMED MEN ON CAMELS
Women in the camps are terrified of going out to collect firewood or grass to sell.
Despite a decision to have a buffer zone around the camps for the displaced, people there continue to talk about armed men on camels harassing those who venture out.
Casual labour is scarce. There are no signs of people feeling safe enough to go home in time to cultivate the next harvest.
Food shortages are, therefore, a long-term prospect.
ON THE MOVE

Humanitarian agencies, meanwhile, continue to race against time to reach those in need.
Every day, hundreds of trucks and aeroplanes are on the move to deliver much-needed food aid.
Insecurity, bad roads, a lack of funds and a consequent lack of capacity are, however, major obstacles to the Herculean task of delivering an average of 30,000-40,000 metric tons of food a month.
It can take as long as four months for food contributions from abroad to reach Port Sudan, and two more months for the commodities to reach Darfur.
APPROACHING RAINY SEASON
With the rainy season approaching, the pressure is even greater.
Large areas of West Darfur will be cut off during the rainy season between July and September.
An additional 23,000 metric tons of food need to be moved to be ready for distribution when the rains start.
WFP is, however, short of funds to purchase all the food required and sufficient trucks to transport that food.
CHILDREN'S VOICES
Amid this uncertainty, and as WFP and other agencies struggle for a second straight year to reach all those in need before the rains, the voices of the children of Zamzam camp return to me: like all other children in the world, they want to grow up and be strong.
Their dream cannot be ignored.