Under the relentless West African sun, villagers join forces to dig a dam using their bare hands. Marcus Prior went to see how a WFP food-for-work project helps Mauritanians harness one of their most precious resources.
It's the middle of the day in the middle of Mauritania's harsh and hostile Aftout region.
The ground appears to be alive, shimmering in the heat, which is blown across the land like fire from a dragon's mouth.
It is June. It is ferociously hot. And yet ahead of us are at least 200 people, most of them women, labouring with their

If the dam does its job this year then we will have everything we need, because water is life


Mayor Yahya Ould Abeid
bare hands. Working in relays, they are throwing clumps of earth onto an ever-growing wall stretching over 100 metres in length.
Every little grain of earth counts, because this is the village dam under reconstruction.
So far for water
When you consider the villagers currently have to travel 12 kilometres on donkeys to collect water – and even then it is dirty and unhealthy – the intensity of their work is understandable.
Some women even have babies strapped to their backs as they stride back and forth, back and forth.
When finished, the dam will retain rainwater and provide a drinking source for both the villagers and their livestock, as well as create new opportunities for agriculture in a region where crops regularly fail for lack of rain.
Food-for-work
The project is a WFP food-for-work initiative. The food incentive and payment to work on the dam is provided by WFP, management is by partner NGO Lutheran World Federation and the hard labour under the sun comes from the villagers themselves.
"This is a fragile community but we are condemned to living here so we are doing everything we can to survive," said the mayor, Yahya Ould Abeid.
"It is virtually impossible to talk about food security at present in this area – it is either slight or non-existent – and there are a large number of people living nearby.
"The last few years have been very difficult, but people here are so attached to their land that they will never even consider leaving it," says the mayor.
Low pay
"One of our only sources of income is the men who go to Nouakchott to work, but because they are illiterate, they can only do manual labour in the docks and so on, so they can't earn very much. But they do everything they can to send what they earn back here."
It only takes a few moments with the workers to understand why they are so ready to graft away in the heat, day after day.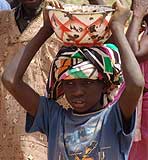 Everyone takes a turn to dig and carry away the soil
"Everything in my farming life is going to change with this dam," says one woman.
"All we need is water. I will be able to plant whatever crop I like – whatever I want to grow I will be able to grow."
"Look at all the men, women and children you see here," says a man, his torso glistening with sweat.
Waiting for the rains
"We have left no one in the village – because there is nothing to guard there. A thief would find nothing. This dam is all we have. We drink dirty water which doctors say is not good for us but we have no choice. We are very poor."
With the rainy season approaching, the dam is nearing completion. So much in this part of the world depends on the rain falling, and the success of the dam is no different.
Its existence, however, should ensure that every drop that falls this year will go that much further – but the rain still has to fall.
"Water is life"
"If the dam does its job this year then we will have everything we need, because water is life," said the mayor.
"If people are drinking, they are happy. And if they have good land to farm, they are also happy. So we will have water and food, and that's all we want."
As we departed, a sandstorm blew in across Nebam, sending the villagers scrambling for shelter.
It signalled the end of the day's work. And underlined – if it was necessary – just what an unforgiving corner of the planet it is.
At least now there is a glimmer of hope.