by Peter Smerdon
The Canadian government has announced that it is extending a life-saving mission by the frigate HMCS Ville de Québec to protect ships loaded with WFP food against pirates off Somalia. The decision to extend the mission of the Canadian escort vessel for a further month removes – for the time being – one of the main threats to WFP's humanitarian lifeline into Somalia.
Canadian Navy Commander Chris Dickinson is a happy man and his crew is too. He says that since August every time they escort a ship loaded with WFP food up to the Somali port of Mogadishu and watch it unload it's "an absolutely wonderful thing for us to see."
We see the cranes in action as they unload food for hungry people. That is what is special about this mission

Canadian Navy Commander Chris Dickinson
"As a warship, typically the missions that we do are strategic in nature, so we will go out and work with a coalition … and the results of that mission may not be seen for 10, 15 or 20 years," Dickinson says. "That is not the case for the World Food Programme."
"We can see the cranes in action as they start to unload food for people who are starving. So our sailors can see that. That is what is special about this mission. I thank the World Food Programme for asking us to do this and I thank the Canadian government for allowing us to do this mission."
Deadly combination
It is undoubtedly life-saving work. Ninety percent of WFP food for Somalia is delivered by sea and the agency needs to ship up to 40,000 metric tons of food into Somalia each month if it is to feed a monthly average of 2.4 million people made hungry by a deadly combination of insecurity, drought, hyperinflation, and high food and fuel prices.
The number of people in need of humanitarian assistance in Somalia has increased by 77 percent so far this year to 3.25 million, or nearly half the country's entire population.
Since January, pirates have launched more than 60 attacks on ships off Somalia, making this the worst year ever for piracy in the region. They are currently holding a dozen ships and their crews hostage, and demanding large ransoms in exchange for their release.
Sigh of relief
WFP Country Director Peter Goossens is extremely grateful that the Government of Canada decided to take over the escort missions in August, and now at last he can breathe a sigh of relief after their decision to extend their mission for a few more weeks.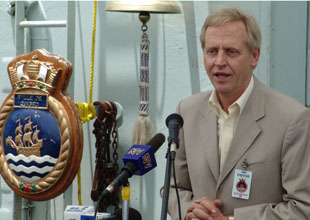 WFP Country Director Peter Goossens
It is, however, a short reprieve, and WFP is urging the international community to find a comprehensive long-term solution so that ships can be guaranteed a naval escort for the foreseeable future. Without this guarantee, ship-owners are likely to cancel contracts to deliver WFP food because they fear that they will fall victim to pirate attacks.
"Our primary problem is not that we get attacked without escorts, but that because of the risk of piracy we cannot find any reasonably sized ships. We can find smaller ships, but the amount of food we need to transport to Somalia is so big that we need larger vessels," said Goossens.
Malnutrition rates
Over the next four months, WFP needs to ship 150,000 metric tons of food assistance to Somalia to ensure that malnutrition rates do not rise to unacceptable levels.
"We are even going to see pictures from Somalia like those we saw from Ethiopia in the middle-1980s -- basically people starting to die in large numbers. I am sure nobody wants that, but unless we can move food into Somalia there is nothing to stop this happening toward the end of this year," Goossens added.
The crew of the Ville de Quebec and their families back in Canada have been so inspired by their work in the seas off Somalia that they organized a fund-raising campaign, raising 2,000 Canadian dollars to buy footballs, paper and pencils in Mombasa. The supplies were shipped to Mogadishu for children in Somalia.
'Glad to reach out'
"We're glad to do this and reach out," says radar operator Alex Cool, who is from Halifax, Nova Scotia, and married to Kelly Cool who organized the fund-raising drive.
The international escort system for ships loaded with WFP food began in mid-November last year with a French frigate. The Danish navy and Dutch navy followed. Since the escort system began, pirates off Somalia have attacked no ships loaded with WFP food.