The brutal 1990s conflict in Sierra Leone is the subject of the new film Blood Diamond. Paul Arès talks to WFP web writer Michelle Hough about his experiences as WFP regional manager for West Africa during a time when WFP food aid was a lifesaver for the thousands of civilians caught in the crossfire
.
When Paul Arès fell into conversation with diamond traders in hotel bars in Sierra Leone, they would tell him they dealt in "melons and bananas".
"They were referring to the colour of the uncut diamonds," says Paul. "But for me and many others, those diamonds weren't yellow and orange, but red with people's blood."
It's ironic they chose a food metaphor because food was one thing that was hard to come by in this diamond-rich, dirt poor west African country for the civilians terrorised by rebels and driven from their homes.
No living thing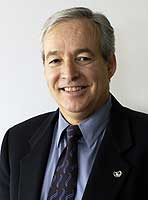 Paul Arès, former WFP regional manager for West Africa
During the decade-long civil war, the Revolutionary United Front rebels hacked off people's limbs, raped women and killed tens of thousands of people as they enforced operation "No Living Thing".
Paul describes how they focused on taking over areas such as Kono District in the northeast where alluvial diamonds were common and easy to obtain as they were near the surface.
"In just a few months, 250,000 people in the east of the country fled to the so-called "Parrot's Beak" area of Guinea," he recalls, explaining that other refugees fled to Liberia while many people left their homes to find safety in other parts of Sierra Leone.
Enormous challenge
"These refugees were in dense, mountainous jungle with very little food. It presented WFP with an enormous challenge. Airlifts were impossible so we appealed for six-wheel drive trucks which could tackle any situation."
The United States donated 25 of the all-terrain, 10-wheeled vehicles. They were vital for ferrying rations of corn-soya blend, bulgar wheat, vegetable oil, salt and sugar to the refugees – many of whom where severely malnourished after a long period of instability.
Setting up a therapeutic feeding centre in the jungle camp was a priority. The centre was mainly for malnourished children, some of whom were put on drips while others were given high-energy food.
Child soldiers
Other camps sprang up along the Liberian border and in southern Guinea. Paul says the true horror of the war hit him when he visited these camps and saw people whose limbs had been chopped off by the rebels. These people were entirely dependent on WFP and other aid agencies.
Perhaps one of the most shocking trends to emerge from west African unrest in the 1990s was the use of child soldiers.
"The way they were inducted into the ranks of the RUF made them the most vicious little killing machines around," explains Paul.
Pied pipers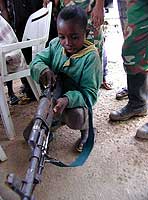 "One of the most shocking trends to emerge from west African unrest was the use of child soldiers."
The children, aged between nine and 19, were abducted by rebels or simply joined them because they had nothing else to do. Paul describes them as "Pied Pipers" who attracted other children into the ranks. Many were made to return to their villages to kill or maim their remaining relatives.
Paul says that after the war was over, he saw these child soldiers in rehabilitation centres with scars etched into their shaven heads. He was told that this was where their "big brother" (the rebels) had injected them with drugs when they went on the rampage across Sierra Leone with their AK47s.
Even though the war ended in Sierra Leone some four years ago, the country is still reeling from the devastation and poverty is rife. Despite its diamond wealth, unemployment is high and the country is 176th out of 177 countries in the United Nations Human Development Report index.
Recovery
Its people crave peace and stability and WFP is helping them to rebuild their lives through school feeding, food-for-work and food-for-training programmes.
WFP's recovery project in Sierra Leone, Liberia and Guinea is facing a US$35 million funding shortfall at the time of writing – yet it's hard to understand why Sierra Leone would need any aid when you consider the millions of dollars worth of gems locked in the earth beneath people's feet.
Paul says that when the stories of these countries are dropped from the international news agenda because they are no longer considered emergencies, then they drop from people's consciousness and donations decrease dramatically.
Drawing attention
Paul made his own particular contribution to the film (Blood Diamond) with personal photos of WFP operations from his years in west Africa which the crew used to ensure authenticity.

A Hollywood blockbuster such as Blood Diamond draws audiences' attention back to former war zones that are trying to get back on their feet after years of turmoil.
Paul made his own particular contribution to the film with personal photos of WFP operations from his years in west Africa which the crew used to ensure authenticity.
Held hostage
He may have left his post in 2000, but the way Paul lays out numerous maps of the region in front of me on his desk at WFP's Rome headquarters, and carefully explains to me the flows of refugees and history behind west Africa's conflicts suggests part of him is still there.
He was held hostage twice while doing his job for WFP in west Africa. He also risked his life. So why did he do it?
"I do this type of work because I believe in what we are trying to achieve and experience a tremendous sense of satisfaction when I help people," he says.