Introduction
Imagine that your main dream is finding enough food to feed your children every day and your hopes focus on returning to the home from which you were forced to flee. To mark International Women's Day, four African women tell us about their thoughts and their daily lives.
Burundi: Véronique Begimana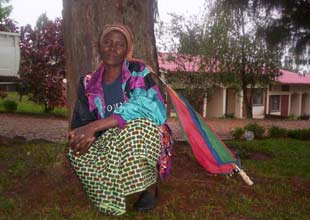 Véronique Begimana
Véronique Begimana, 47, lives in Gitega province, Burundi, an area hard-hit by last year's heavy rains and floods. Veronique suffers from AIDS and lost her husband to the disease. She has six children and has lost a seventh child.
I live in a house that my husband built out of metal. The roof has now gone bad and has holes in it.
It would be nice to have someone else's life, to be able to give my children what they need, to wear proper clothes

Every morning I get up at 5 to pray and I dress in my imvutano (traditional clothing for women in rural Burundi). I wash my head every morning.
I wash my whole body and clothes on Saturdays to prepare for church on Sundays.
I don't eat anything in the morning, nor do my children.
Diarrhea
When times were better we used to cultivate the hills and the swamp areas and this would feed me and my family every day. Now there is very little to eat. Sometimes we eat cassava leaves that are diseased and these give us diarrhea.
Me and my friends worry a lot about food, about whether we will be able to feed our children.
I felt safer when my husband was alive, but now I am head of the household, life is very difficult.
Dreams
It would be nice to have someone else's life, to be able to give my children what they need, to wear proper clothes. I dream of finding a job that gives me enough food to feed us every day.
I pray for myself and for my family. I am happy when I have food to give to my children. I feel sad when I can't feed them.
Anxiety
My children sleep together in one room. I'm in another room, but I don't sleep much at night because I'm anxious.
I hope that things will change and my children will have a better future. I belong to an association which encourages people with AIDS to make the most of their situation.
But without food or money it's difficult to have hope for the future. Things don't change very much for us. Life isn't beautiful.
Interview by Cecila Lonnefors
Democratic Republic of Congo: Anasthasie Bodha
Anasthasie Bodha, 60, was driven from her home in Fataki, by militia violence in December. She is now staying with a family in Bunia.
I am 60 years old and I have 9 children. Four of them are with me here. I have been married for 45 years and I come from Fataki (110 km north east of Bunia, DRC).

When I think about my life, my stomach hurts

I wake up at 6 in the morning and I get dressed. We do not eat in the morning, we just have one meal a day, in the evening at around 6pm.
After I wake up, I clean the place we are staying in, inside and outside, I wash my children either in the mornings or in the evenings, I wash myself once a day, often without soap, because I don't have any.
Drinking
I meet other women at the market where I go to find work during the day, and we talk about our life and being poor because we had to flee our village.
We recall our time in the village and talk about the planting and harvest seasons. We also exchange information about where to find some work for the next few days.
It is hard to live as a displaced person. I have to find work every day to purchase food. For my husband, the money he gets, he uses it to drink and for personal needs.
Hopes
I hope that security will come back in our village so that we can tend to our fields again.
How long will I have to lead this kind of life, when will I be able to return to my village, I often wonder.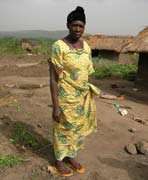 Anasthasie Bodha
In the evening we go back home, and we sleep on the floor on a mat I have made. We sleep all together myself, my husband and the children and we cover ourselves with my cloths.
I do not have time to relax except at night when I sleep.
The question I am asking myself all day long is : "How am I going to do to find food tomorrow?"
When I think about my life, my stomach hurts.
Interviewed by Janvier Muhima
Democratic Republic of Congo: Rebeka Dz'da Buma
Rebeka Dz'da Buma, a 51-year-old widow, fled her village in Ituri province in December when militias launched an attack, shooting at villagers and burning houses. She is now staying with a family in Bunia. She has four children aged one to thirty.
I usually wake up at 5.30 in the morning. I put on a dress and a scarf around my head.
I start the day sweeping the floor of the hut I am staying in at the moment, then I wash my children.

Rebeka Dz'da Buma
I then go to the market area in town to find small jobs to do so that I can get food for my family.
Usually I help people who sell beans and maize to weigh things and store them.
In the morning we do not have any meals. The children wait without food until I return from the market in the evening to give them food I've bought with the money I've earned.
Searching for food
I am paid between 50 cents and 1 dollar a day, or given this in food (2 kg of beans and 2 kg of maize flour). We eat between 6pm and 8pm usually.
I am very unhappy with the kind of life we have as displaced people. It brings back bad memories, I am disappointed with life

My children also leave at the same time in the morning, to find some small jobs as well, like sweeping warehouse floors, or carrying goods on their heads for Bunia sales men.
What is difficult is to have to go out everyday in search of food. If we don't go out, we don't eat.
Homes burnt
At the market I meet with other displaced women and we talk about life, about our fields that are now abandoned in our villages and our houses that have been burnt. We wonder when we will be able to go back home.
We are hosted by a family in Bunia and I sleep with my 4 children in the "living room". We lie on a mat on the floor and sleep next to each other, and we cover ourselves with cloths.
There is no time to relax for me except at night when I sleep.
Bad memories
I am very unhappy with the kind of life we have as displaced people. It brings back bad memories, I am disappointed with life.
I was selling fish at the market in my village and all my stock was looted.
My hope is that I will be able to resume my work but my fear is that the government has not gained control over all the militias.
Bandits
I am scared that my children will become street children and then bandits. I am also scared for their health. We have problems such as malaria and diarrhea.
I have hyper tension - I didn't have that before. I would like us to go home and start our life again.
Interview by Janvier Muhima
Chad: Fatime Gassi
Fatime Gassi, 25, is an IDP from Chad currently settled in Habile in Dar Sila. She fled her home in Ablogle last year following an attack by Arab militia. Fatime lost her husband and one of her children during the attack plus all her belongings. She fled with her remaining five children and a bag of flour.
The violence that descended on Fatime Gassi's life like a thunderbolt, and in which her husband and one of her children were slaughtered, is still fresh in her memory.
Absita said that now we will take a part of them with us to those far away places they sometimes wonder about

In her new life as an IDP, Fatime relives this fear of attack every other day when she and a group of women go searching for firewood.
Eastern Chad is a dry, desert area where trees are scarce and in order to find firewood with which to cook the women need to walk far.
Venturing into the wilderness
When Fatime and a group of ten women venture out into the wilderness on their wood collecting mission they leave about 4am in the morning and do not return till late afternoon.
The risk of attacks and harassment from Arab militia is high. On several occasions women who had donkeys had them stolen and were forced to return home without any firewood. Absita Adra, Fatime's close friend lost hers during one of those trips.
Support
The women support themselves and take care of each other's children while the other is away.
Today a group of them, including Absita, went to collect some wood but were turned back by the Arab militia.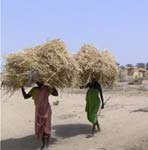 They will not go tomorrow – perhaps they will try again the day after.
The constant threat of violence also affects the women's ability to grow crops and cultivate land.
They would like to go out into the fields but possible attacks prevent them. As a result, the 12,000 IDPs must rely on WFP food aid or selling wood and straw at the market to buy food.
Straining local resources
Local residents fear that the IDPs are depleting the already strained natural resources in the area.
Water is a major concern. There is a well not far from the camp just outside the local village but IDPs are not always free to access it.
Fatime and other women need to negotiate with the heads of the local village every day to allow them to collect water from the well.
The women are often forced to go to collect water from the wadi (dried-up riverbed that fills up with water during the rainy season) which is a one-hour walk from the camp.
Water a full-time job
They need to go twice and sometimes three times a day – in the morning at 5am and then later in the afternoon at 4pm. They cannot bring enough water for the whole day in one trip.
Like most of the IDPs Fatime has no donkey to help her carry her load. All livestock her family had was taken away from them during the attack on the village.
In the afternoon the women sit together and talk. They sometimes wonder about far away places and what life is like there.
As we were leaving, we took some pictures of Fatime, Absita and their friends.
We showed them the photos and they all smiled – Absita said that now we will take a part of them with us to those far away places they sometimes wonder about.
Interview by Magda Jurkowiecka