The collapse of a bridge in northern Benin created a massive bottleneck in one of WFP's key supply lines for getting food aid into Niger, and presented a serious logistical challenge. But with a partnership-based approach and pure hard work, the problem was soon solved, as WFP spokesperson Marcus Prior reports.
Whether it's airdrops into southern Sudan, aid-laden donkeys trekking high into the Himalayas or truck convoys heading across the Sahara, it's only when you see a WFP operation with your own eyes that the full complexity of moving food across long distances into remote areas hits home.
Replacing a bridge might seem like flicking a switch in comparison, but don't be fooled.
Massive bottleneck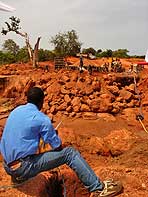 When a bridge near the village of Guene in northern Benin was washed away by severe rainy season storms in early August, WFP was faced with a massive bottleneck in its efforts to move huge quantities of food from the Beninese port of Cotonou into landlocked Niger to the north.
It marked the collapse of one of two key supply corridors in the response to the food crisis in the West African country, where well over 50,000 tonnes of food would be needed over the next three months.
Trucks blocked
Hundreds of trucks were blocked and a diversion through Burkina Faso was an extremely expensive alternative.
As the situation worsened, ships were diverted from Cotonou to Lome in neighbouring Togo, so that their Niger-bound cargo could avoid the impasse at Guene.
A detour was created by the government of Benin, but when that too was washed away and had to be re-established, it was clear that a more permanent solution was needed.
Partnership-based proposal

A partnership-based proposal was quickly developed with the Swedish Rescue Services Agency (SRSA), which maintains an emergency preparedness organisation for overseas disaster and humanitarian aid operations, consisting of personnel and materials which can at short notice be sent to wherever they are needed.
The SRSA agreed to send an engineer for a site visit immediately, and then to provide a ready-to-assemble Bailey Bridge, ship it from Sweden to Benin and provide technical oversight during the construction process.
Smooth rollout
WFP's Benin country office coordinated closely with local authorities to ensure the smooth rollout of the operation, and a project manager was sent from Rome to oversee the construction process.
Not only did the bridge need to be shipped several thousand kilometres to Benin, but it then faced a lengthy road journey from Cotonou in the south to the northern border region with Niger.
Nine containers carrying 75 tonnes of bridge components had to be cleared through customs and moved onwards by road.
Bridge in place

But little more than a month after the arrival of WFP's project manager, Mathias Andre, the bridge was in place.
Spanning nearly 34 metres and with the ability to bear over 51 tonnes in weight, the bridge now permits even the heaviest of trucks to cross fully laden and continue on into Niger, only a few kilometres to the north.
Pure hard work
The erection of the Guene Bridge has been a model of professionalism, partnership and pure hard work


Martin Ohlsen, WFP's Regional Logistics Officer for West Africa
"The erection of the Guene Bridge has been a model of professionalism, partnership and pure hard work," says Martin Ohlsen, WFP's Regional Logistics Officer for West Africa.
"A major potential bottleneck for aid supplies has now been solved and deliveries through this corridor should not face serious delays in future."
Tools and spare parts
WFP and the SRSA have left tools and spare parts at the bridge site in Guene so that Benin's military engineers can carry out on-the-spot repairs as and when necessary.
The portable Bailey Bridge also provides new options to the Government of Benin, since it can be dismantled and used elsewhere as soon as the permanent bridge is fully repaired.
The Guene Bridge is up and running - see, and believe.