Anti-Hunger Campaigners Pedal 1,000 km Through Asia
14 October 2009
Undeterred by flooded roads, flat tyres and toothache, two 40-year-old WFP supporters from Switzerland recently completed a gruelling 1,056-km bicycle ride across Cambodia and Thailand to raise funds for WFP as part of YUM Brands' World Hunger Relief campaign.
ROME – Despite meticulous planning, Lionel Margueron and his travelling companion met a few unexpected challenges during their two-week ride from Phnom Penh to Bangkok – a journey which took them through some of the remotest rural areas of the two countries.
Torrential rain in Cambodia meant that for a couple of days they had to repeatedly get off and push their bikes through knee-high water and the presence of unexploded landmines along the Cambodia-Thailand border made for at least one day of extremely nervous riding.
"While Cambodia taught us the joy of cycling in the rain, even in water, Thailand brought very hot days, where we systematically grilled like vegetables on skewers," the pair wrote on their blog. By the end of their adventure, the Swiss duo had raised more than US$10,000 in donations for WFP.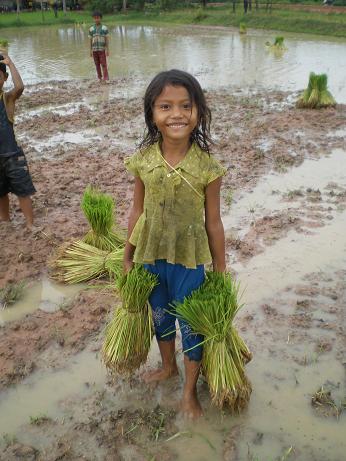 Touching encounters
The journey through remote rural areas of Cambodia was punctuated by touching encounters with poor but smiling people whose generosity amazed them. After meeting WFP's country director at the start of their trip, they knew that these were the types of people WFP is helping in Cambodia, in part by providing school meals to vulnerable children and nutrition support to young mothers.
"Parents send their children to school because they know that their kids will receive the 2,000 calories needed for their proper development," the pair say. "Nursing mothers are also supported. Nutritious food is extremely important for them."
Lionel decided last year that he really wanted to "dive" into the fight against hunger. As European Sales & Reporting Manager for Yum! Brands, the restaurant company which is one of WFP's corporate partners, he had participated in fund-raising and awareness raising events in 2007 and 2008.
Wanted to do more
In 2009 he wanted to do more. So he asked a friend, a fellow cyclist who works at a bank, to join him, and together they planned their journey. The two took a long hard look at WFP before deciding to go through with his World Hunger Relief odyssey. They read books about international aid organisations, looked into the malnutrition situation in Cambodia, learned about WFP. Eventually both of them were satisfied that WFP was the right organisation to support.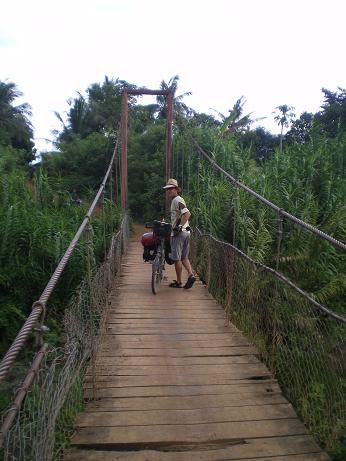 Their adventure is just one of many fundraising and awareness-raising initiatives undertaken by employees in the context of Yum! Brands' World Hunger Relief campaign.
While it's pop diva Christina Aguilera who is the public face of the campaign (see video above right), World Hunger Relief is carried on in momentum by the company's 1.4 million employees all over the world, both with their own activities and with the enthusiasm they transmit to customers in restaurants.
Now in its third year, the campaign is the world's largest private sector consumer outreach effort on the issue of hunger.In its first two years the campaign raised US$20 million for WFP's greatest needs, making a life-saving difference for over 2.5 million people in 27 countries.