A former beneficiary of the United Nations World Food Programme's school feeding programme is to join the largest team of all-Nepali women to climb Mount Everest this spring.
This is an amazing opportunity to feature the power that school feeding and education play in a young person's life

WFP Nepal Country Representative Richard Ragan
Nimdoma Sherpa, who as a child received food under WFP school feeding, will join an expedition of ten Nepali women from multiple castes and ethnicities of Nepal, who will attempt the summit in April.
"Unique expedition"
"This is an amazing opportunity to feature the power that school feeding and education play in a young person's life. It's an example of children who have grown into healthy adults ready to take on one the greatest challenges on earth, to climb Mount Everest," said WFP Nepal Country Representative Richard Ragan.
"We hope the efforts of this unique expedition will inspire women across Nepal to reach for their dreams – dreams to become doctors, teachers or even mountaineers," Ragan said.
Since Edmund Hillary and Tenzing Norgay Sherpa successfully reached the summit of Mt. Everest in 1953, so far only seven Nepali women have completed the climb.
Encourage women
The members of the expedition hope that their efforts will not only open up mountaineering as both a sport and a career for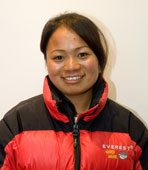 Nimdoma Sherpa
women in Nepal, but will also encourage women, no matter what community they are from, to work together to pursue their goals.
The team is also very concerned about the effects of global climate change on Nepalese people and their livelihoods and its impacts on one of Nepal's greatest resources – the Himalayas.
They hope to play a significant role in promoting education, empowering women and educating people about the effects of climate change in Nepal after completing the expedition.
Motivation
"It is amazing to think about how far I have come. WFP was there to motivate me to begin my schooling and is now supporting me and this amazing group of women from across Nepal to achieve our dream of reaching the top of the world," said Nimdoma Sherpa.
"This is an incredible opportunity and we all look forward to promoting WFP's ongoing school feeding efforts in Nepal after we complete our expedition."
WFP is providing organizational support as well as some funds to the team. UNDP is also providing financial support. The expedition, however, is still in need of additional funds in order to begin the expedition.
Former beneficiary breaks record
Pemba Dorje Sherpa, who holds the Mt. Everest Speed Ascent World Record of 8 hours 10 minutes and is also a former WFP beneficiary, will be the climbing leader for the women's expedition. Da Gombu Sherpa, who has been in the mountaineering profession for over 30 years, will serve as general leader.
"Two of the women, Sushmita Maskey and Usha Bista, have already attempted Mt. Everest, with Sushmita falling only 48 meters short of her goal.
With the support we have received from WFP and UNDP we are very confident that the expedition will be a success, but we still need to raise additional funds to ensure all ten women can take part in this historic expedition," said Da Gombu Sherpa, the team leader.