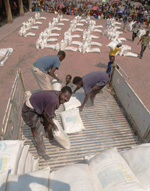 "These people are very happy," said WFP program manager Ibrahime Diallo after helping to supervise the distribution. "They have been waiting a long time. Now they see that when we say we will do something, we will do something."
In anticipation of the distribution, 2,000 people gathered in the shade beneath the trees around Belewete primary school in south Dungu as UN trucks carrying 24 tons of food pulled up.
Local men sweated as they offloaded bags and cans of food bearing the logos of USAID, ECHO (the European Commission Humanitarian Office) and other donors. By the end of the day, rations for 8,500 people had been handed out

Family ration
"Thank you," said Mbikoyo Nakati, who lined up to receive her family's ration of food. Nakati is from the village of Duru, in the bush between Dungu and the area where a combined force of Ugandan, Congolese and South Sudanese are now battling rebel fighters from the Lord's Resistance Army (LRA).
In early November, the LRA swept through the area around the town of Dungu. As they killed, looted and raped, they abducted more than 190 schoolchildren.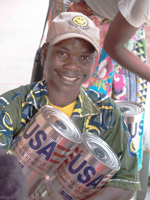 Tens of thousands of people fled their farms and villages in terror. The southern half of Dungu, a decaying community of mud-walled thatch-roof huts interspersed among decrepit brick buildings, was largely emptied. For weeks the residents of Dungu and the surrounding villages lived in the bush.

Hunger increasing
Many of Dungu's inhabitants have now returned. The town's population has grown as internally displaced people (IDPs) have arrived. With the area outside Dungu now considered by many a no-go zone, hunger is on the increase.
"The harvest season begins in January and they are unable to go to their farms and fields," said WFP Dungu substation chief Charles Gemenze. "There is no famine but IDPs, host families and returnees need to complement what little food they still have."
WFP's feeding program in the Dungu area is expected to last two or three months.