Fleeing Congolese Find Food and Refuge in Uganda
09 December 2008
by Lydia Wamala Ishasha/Mutanda, 9 December 2008 - "Stop, stop!" a man calls out, bringing to a halt a bus that's just moved off. "A passenger has boarded without her firewood!" he pants. "She will need it -- someone pass it to her."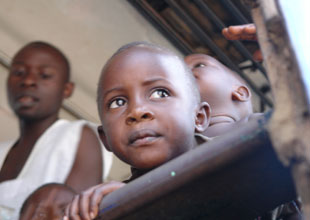 After some discussion, logs of wood get passed over the heads of 50 or so passengers – some too preoccupied to notice what is going on. As the bus finally leaves, quickly vanishing in the dusty vicinity of Virunga National Park, another one pulls forward. It too has come to take people and their possessions.

The passengers are Congolese refugees. They are some of the 30,000 people who have entered Uganda from the Democratic Republic of Congo since August, fleeing fighting between rebel factions and the government.

The UN refugee agency has rented 13 buses to ferry them from this Ugandan border post to a transit centre 27 kilometers inside western Uganda at Mutanda.

Perilous world



These people have managed to escape a perilous world plagued by death and despair. They tell stories of gruesome gun battles, machete murders, rape and desolation.

"There is place called Kikandoni," Nehemayi Binsarigyisi says. "Up to this day, there is a smell of death. Soldiers came and killed many people."
"They wanted to kill every male because they saw them as rebels," John Kotwire joins in. "They killed grown men, boys, even babies on women's backs. We had to run."
Asked what they need most, a woman says: "Kyakula na maji," Swahili for "food and water."

Beans, rice, cooking oil

WFP provides prepared meals when the refugees arrive in Uganda and gives food for families to cook later on. On a lawn at Mutanda, WFP has beans, rice, cooking oil and enriched food for children. As every family steps down from the bus, they receive a month's ration -- as well as blankets, water cans, tea cups and tarpaulins from non-governmental organizations, the Red Cross and UNICEF.

"Today we will work into the night," says WFP's Alex Ogenwroth at Mutanda. "Buses will come all day bringing refugees from various border areas. We have to feed all of them. "In total, WFP is assisting an estimated 20,000 of the new Congolese refugees.

On receiving their package, Kahigi Musekura, John Kotwire and the rest hurry down a narrow dirt path through wild grass, to find a site for their new home. Immediately, they start to erect makeshift shelters so that they will be done before nightfall.

When they start to cook their first meal of WFP food, for some, things happen fast. Some children are eating before the shelters are even completed -- thanks tothe firewood.