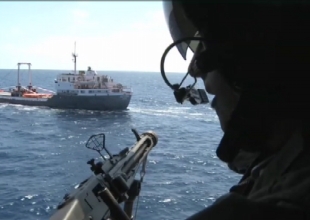 "Pirates have been threatening to cut off the humanitarian lifeline to Somalia, but now the EU is providing the comprehensive protection we have been calling for," said WFP's Deputy Chief Operating Officer, Ramiro Lopes da Silva, from WFP's Rome headquarters.
"This means we can guarantee a flow of food assistance to the people of Somalia who are suffering from drought, conflict, and the impact of high food prices."
The first of the ships to be protected by the EU -- the MV Semlow -- left Mombasa port on Sunday, loaded with enough food to feed more than 50,000 people for a month, alongside other humanitarian cargo. It was accompanied by the British frigate HMS Northumberland.
No breaks in protection
The EU force will provide escort vessels to WFP for up to a year. This will ensure that there should not be any breaks in protection nor a need for frequent appeals for replacements – the case until now.
The EU's "Operation Atlanta" includes naval escorts for WFP ships, escorts for commercial shipping, aerial surveillance and measures to deter, prevent and intervene in order to bring an end to acts of piracy and armed robbery off the Somali coast. It is the first-ever EU naval operation and was established under the French Presidency of the European Union.
Naval escorts for WFP ships heading to Somalia are vital for WFP to continue meeting increased needs in Somalia. Sixty shipments of more than 260,000 metric tons of WFP food – enough to feed 1.3 million people for a year – have arrived in Somalia so far this year despite it being the worst year ever for piracy off Somalia with more than 100 pirate attacks.
Food arrives by sea
A succession of governments has generously supported WFP operations by providing naval escorts for ships carrying food assistance over the past year. Since the naval escort system began in November 2007, no ship loaded with WFP food heading to Somalia has been hijacked. Ninety percent of WFP food for Somalia arrives by sea.
A Dutch frigate and two NATO warships took over escort duties in the last week of October, protecting 13 ships which delivered food for 1.8 million people over the last three months. The NATO and Dutch missions ended last week. The crisis in Somalia worsened in the second half of 2008 with a 3.25 million people in need of humanitarian assistance, including 3.1 million people in need of food assistance.
The 260,000 metric tons of WFP food shipped in 2008 is almost four times the amount of food shipped in 2007, three times what was shipped in 2006 and eight times the amount in 2005.