Climate Change
Climate change is about the poorest, most vulnerable and food insecure people.
Climate change is a hunger risk multiplier, threatening to undermine hard-won gains in eradicating hunger and poverty. Current projections indicate that unless considerable efforts are made to improve vulnerable people's resilience, 20 percent more people will be at risk of hunger by 2050 due to the changing climate.
Working with governments, international partners and local communities WFP is assisting the people who are most at risk, most food insecure and have the least capacity to respond or adapt to climate change.
Video
How one village adapted to climate change View video
"How MERET changed my life in Ethiopia" View video
Key publications
Brochure
>Hunger and Climate Change
Flyer
>Climate Change: Enabling People to Adapt for the Future
Book
>Climate Change and Hunger - Responding to the Challenge
Other publications:
>Climate Change and Nutrition Security
>Climate Change, Food Insecurity and Hunger
>Publications Overview
>Rebound: Building a More Resilient World
Time to act
Climate change is not only a future concern. Even today, most of the food-insecure communities that WFP supports suffer from extreme weather events, and environmental degradation. In the shorter term, hunger emergencies will increase. In the longer run, poor people's ability to seize opportunities that could help them out of hunger and poverty is being undermined.
Efforts to help governments, communities and vulnerable people to build resilience and better manage climate-related risks are crucial for the global challenge of reducing hunger and undernutrition.
So WFP is:
Assisting communities to increase their resilience to shocks and adapt to climate change through improved livelihood practices and creation of productive assets.
Supporting the development of national social protection programmes and safety net mechanisms that can support immediate food needs - alongside activities to boost resilience in affected communities.
Helping governments, communities and vulnerable people to better prepare for emergencies through disaster risk reduction, and the development of national risk management frameworks that include vulnerability assessments, early warning systems, and contingency planning components .
Assisting governments with immediate emergency responses to climate related hunger crises and disasters through targeted humanitarian relief.
Global reach and innovation
On average, WFP assists more than 90 million people in more than 70 countries each year and has an unparalleled deep field presence. WFP has a solid track-record in building resilience at community level. Last year, WFP assisted tens of millions of people in 56 countries to enhance their resilience to climate-related risks.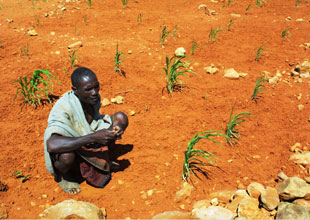 This is mostly done through food and cash-based safety nets – these let food insecure communities invest in creating assets and infrastructure, rehabilitate degraded lands and reforest and transform landscapes. MERET in Ethiopia, is one very successful example.
Often these efforts incorporate innovative solutions for managing risk. These include weather insurance schemes for farmers or early warning systems linked with national social protection schemes that can be quickly scaled up in the case of extreme weather events. Combining innovation and traditional knowledge allows vulnerable people to better manage risks and escape hunger and poverty. WFP, through the R4 Rural Resilience Initiative, is using groundbreaking research led by the International Research Institute for Climate and Society (IRI) and the National Aeronautics and Space Administration's (NASA) Goddard Space Flight Center to build the resilience of climate vulnerable farmers across Africa by applying the newest and most appropriate index insurance tools.
Map: Climate Change & Food Security
A new poster map designed by WFP and UK Met Office Hadley Centre weaves together the latest information on climate change and food insecurity to show how the two are related. See slideshow